Bond Watch: 'Game Of Thrones' Star Could Be Next 007, Says Totally Unsubstantiated Rumor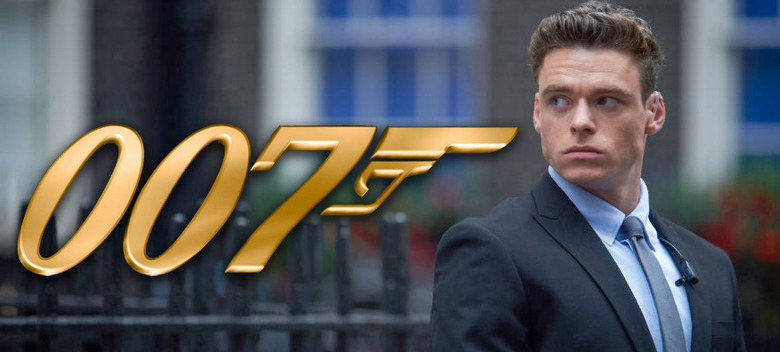 While the James Bond franchise is preparing to have director Cary Fukunaga take over 007's next mission that was previously in the hands of Danny Boyle, a new rumor indicates what might be happening once Daniel Craig hangs up the tuxedo.
Word on the streets of London is that James Bond franchise producers may be approaching Game of Thrones star Richard Madden to take over the role of 007, inspired by his recent turn on the BBC drama Bodyguard, which was picked up for distribution in the United States by Netflix not too long ago.
Of course, this story comes from the lawless world of British tabloid reporting, so bring your martini shaker of salt along for this one.
Audiences will likely best know Richard Madden for portraying Robb Stark, the slain King in the North, in HBO's Game of Thrones, but he's also appeared on shows like Klondike, Medici: Masters of Florence, and the aforementioned Bodyguard, where he plays a member of the Royalty and Specialist Protection Branch of London's Metropolitan Police Service. Here's a taste of his work in that series, which apparently makes him a candidate for the role of James Bond:
The story says James Bond producer Barbara Broccoli will approach Madden in the next few days to discuss the role. However, it should be noted that this rumor comes from The Daily Mail, known for unsubstantiated gossip in the United Kingdom. Plus, since the next James Bond movie with Daniel Craig isn't even in production yet, it seems rather early to offer up the role of 007 to another actor.
In any case, it's always fun to observe the U.K. media during a time of transition for the Bond franchise. It practically becomes the wild west, with names being dropped left and right. Most of these threads turn out to be untrue. But some do not. At the very least, times like these are when a lot of interesting 007 trivia is created.
Having said that, Richard Madden would make a fantastic James Bond. There has been a lot of chatter about having a James Bond who isn't white for the next iteration of the character, with Idris Elba being a popular choice. But other names like Tom Hardy and Tom Hiddleston have been more prominent than any of the more interesting choices. One thing's for sure: we won't be seeing a woman take the mantle of James Bond at all since Barbara Broccoli has put the kibosh on that idea rather firmly.
Frankly, once Daniel Craig is done with James Bond, I think it's time for 007 to take a break for awhile. It usually takes a few years for a James Bond movie to get off the ground, but we only had four years between the end of Pierce Brosnan's tenure as James Bond and the beginning of Daniel Craig's gig. Taking a little more time to create some more desire from fans couldn't hurt.