Seth Meyers Returns To 'Saturday Night Live' And Gets Back Into His Old Groove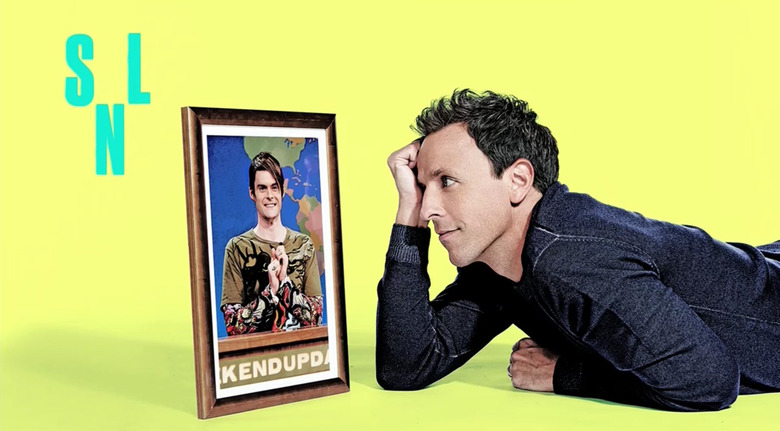 Seth Meyers has been hosting Late Night over at NBC for years now, but this weekend was the first time he returned to his old stomping grounds at Saturday Night Live as host. So how did the late night sketch show fare with one of their own as host? Well, it played out in very much the same way an episode would when Seth Meyers was a cast member and head writer. There wasn't much memorable for Seth Meyers to do (which isn't necessarily a bad thing), but the rest of the cast really shined instead.
Let's dig into the sketches of the Seth Meyers hosted Saturday Night Live below.
The Best
Jail Cellmate – It doesn't get much better than Kenan Thompson playing Bill Cosby, and now that the once beloved sitcom star is in jail for his sexual crimes, you knew SNL was going to tackle this at some point. In what's a great combination of Bill Cosby's nonsensical nature and a spoof of The Shawshank Redemption, we got what was easily the best sketch of the night.
A Frightening Tale – In our line of work, hearing amateur filmmakers like this are a dime a dozen. This is one of those sketches that's sadly so accurate that it's inherently funny. Elevating the gag is presenting it as a terrifying ghost story being recounted, and then it's made even better when it's given that special twist inspired by movies like It Follows or Truth or Dare.
Movie Talkback – Anyone who has ever attended a post-screening Q&A with a filmmaker knows the inane and ridiculous questions people can ask. This takes it to the extreme, but not by much. Though the absurdity of the question is funny, for me, it's the earnest and sometimes perplex responses that Seth Meyers gives as the straight man.
The Average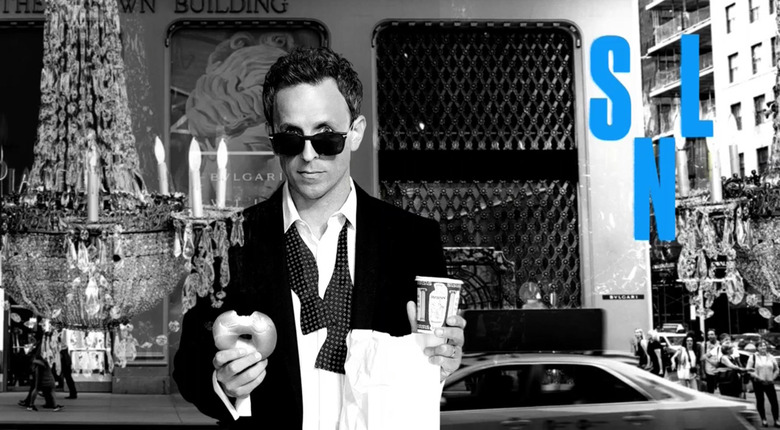 Donald Trump and Kanye West – This is one of those situations where what really happened is so positively insane that it's hard to heighten it in order to mine it for comedy. But the SNL writers did a solid job by adding the extra layer of inner monologue from Donald Trump, not to mention the confusion from Kenan Thompson as Jim Brown. Alec Baldwin did his thing as Donald Trump, which was fine, but Chris Redd was outstanding as Kanye West. It's just a shame that I hope we don't have to see it too often because I'm so sick of seeing Kanye West make this circus even more ludicrous.
Beta Force – We've all seen those ads for testosterone building solutions that you can pick up in giant plastic containers at GNC, but we've never seen a commercial so accurately portray what they do to people in their 50s who are trying to look like total badasses by shaving their gray hair, dying their goatee black and wearing their sunglasses backwards. It's not an instant classic commercial parody, but it's a good one.
Trees – If you watched SNL as it aired on NBC or on your DVR sometime later, then you miss more than half of this sketch thanks to bad timing. The sketch began in the middle of this environmental music video parody that gets some chuckles simply because of the production value of the music and solid rapper performances from Chris Redd and Pete Davidson, but it's also nothing to write home about.
The Worst
Halloween Gig – This seems like a poor rendition of so many musical sketches that Kenan Thompson has done before. It's closest cousin is probably the sadly retired "What's Up wit Dat?", and the greatness of that recurring sketch from years ago only makes this one look worse. Normally Kenan can salvage something like this, but not even Seth Meyers in a Kenny G kind of wig could add much hilarity to the proceedings.
Bayou Benny's Liberal Lagniappe – Well, this seemed like it might be some kind of worthy successor to Maine Justice, but the premise doesn't land anywhere near as well as the sketch goes on. Not only are the guests totally unfunny, but the absurdity of it all feels almost desperate. Beck Bennett's exaggerated Cajun accent is meant to be so over-the-top and bad that it's hilarious, but the fact that it sounds a little Jamaican feels odd. Plus, it feels pretty lazy to just have Seth Meyer as himself.
Traffic Stop – Please, let Leslie Jones and Ego Nwodim team up again in the future, but don't do it with such a lame sketch like this. At a time when cops making inappropriate stops, turning that concept on its head with some black lady police officers seems like a good idea. But the execution here is so uninspired. This would have been much better with some more biting social commentary, but instead, it's basic and flat.
Cuban Vacation – Considering that SNL had to cut off the goodbyes because the show ran long, one would think they could have trimmed some of the fat elsewhere. For example, this entire sketch should have been cut. Seth Meyers and Heidi Gardner recounting their Cuban vacation and constantly saying Coo-ba is funny for the first 30 seconds, and then it just goes nowhere. Not even the reactions from the rest of the characters add anything worthwhile. What a dud.
Weekend Update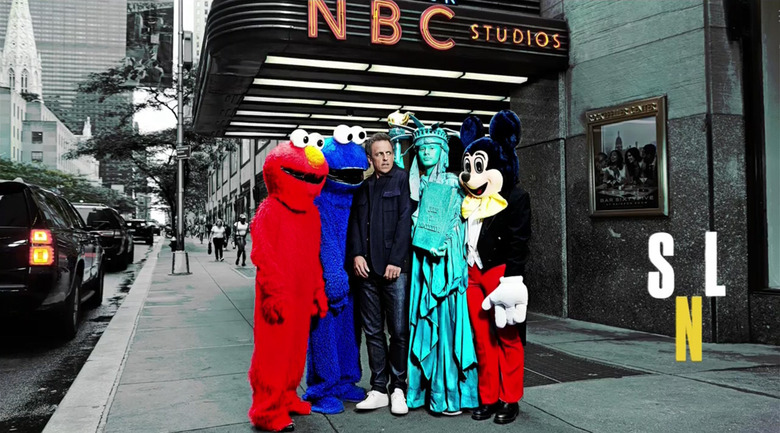 Colin Jost and Michael Che felt pretty lively tonight, and maybe it's because they knew they were going to be joined by Seth Meyers later in the segment (spoiler alert). This week's headline's were ripe for mockery
Goop Staffer Baskin Johns – This feels like such a one-note Weekend Update bit, and I'm not sure why it went on for so long. Sure, Heidi Gardner is great with characters like this, but it can only be funny for so long. I could have used much more of Michael Che doing his version of the character's voice too.
Really!?! with Seth Meyers, Colin Jost and Michael Che – Of course Seth Meyers had to come back to the Weekend Update desk, and reviving his old "Really!?!" segment that he used to do during his own Weekend Update segments was great. What made it even better is how they used the titular, incredulous recurring line and used it as a way to interact with each other. That was a nice touch.
The Host
When Seth Meyers was a cast member on SNL, he didn't have any memorable characters, but instead let his talents shine as a writer and Weekend Update host. So having him host was always going to be interesting in one way or another. In this case, it seemed odd to have him jump into character roles where he wasn't playing his usual sarcastic, straight man kind of person. But where he was required to do what he used to do best, that's where it felt good to have Seth Meyers back. Plus, his monologue allowed him to stretch those late night and stand-up legs of his, which is always welcome.
The MVP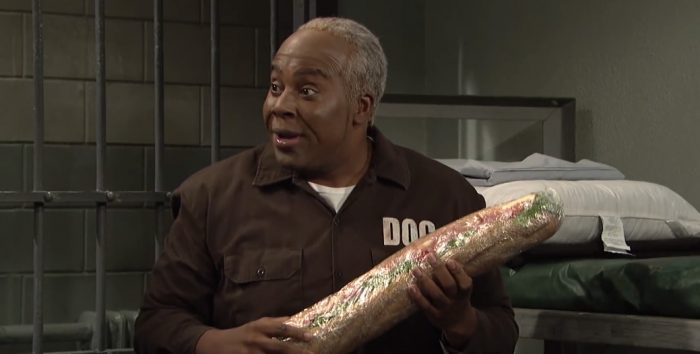 Kenan Thompson – Man, Kenan was on fire tonight. Not only was Bill Cosby the best sketch of the night, but he was a lively presence throughout most of the evening. His role in the cold open brought the right addition to a sketch that otherwise might have been far less entertaining, and even the less than stellar musical sketch was kept from being downright awful simply because of his endless energy. It's going to be a real bummer whenever Kenan Thompson chooses to leave the show.
The Final Word
Seth Meyers was never a standout cast member until he came to the Weekend Update desk, so having him blend back in with the cast of SNL while letting everyone else do the heavy lifting was the smart thing to do. Character work isn't Seth Meyers' strong suit, and I'm glad he was able to get back behind the Weekend Update desk to liven things up a bit. It's just a shame we didn't get any returning cast members to join him this time. Also, no Paul Simon in the sketches? That's a shame.
We'll be back in a couple weeks after Jonah Hill hosts the November 3 episode.