'Men In Black' Reboot Photo Reveals The Agents Facing Off Against Their Biggest Threat Yet – Sweltering Desert Heat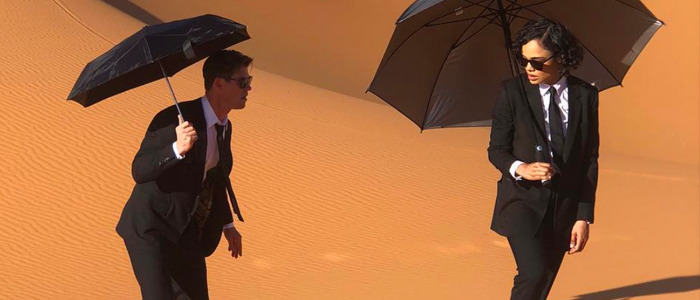 Men in Black agents have gone toe-to-toe with some pretty serious adversaries over the course of the agency's long history: vomiting aliens, Vincent D'Onofrio lurching around with roaches leaking from his body, the works. But in this new Men in Black reboot photo, Tessa Thompson shows off a new look at her and co-star Chris Hemsworth battling what may be their hottest opponent yet: the sun.
The actress took to Instagram to reveal a new set photo, and you won't believe how HOT this photo is! (Actually, you probably will. They're walking around in a desert.)
Men in Black Reboot Photo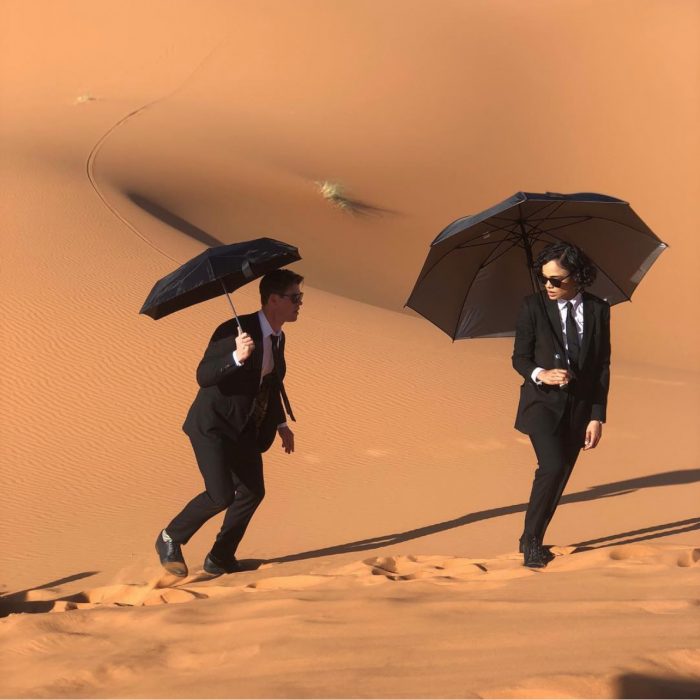 Thompson, who's had a heck of a year by appearing in Sorry to Bother You, Annihilation, Dear White People, Creed II, and Westworld, shared this photo through her Instagram account and captioned it "Buds in Black."
We've seen a few behind-the-scenes photos from this new movie already through the stars' social media accounts, but as far as I can tell, this is the first full-body shot of both stars together in full costume. Are those umbrellas going to double as some sort of special alien-fighting gadgets in the movie, or are the actors just using regular old umbrellas to get from one part of the desert set to another? Is Hemsworth wearing green and grey striped socks? Will those socks help with the alien fighting? I'm dying to know.
The Men in Black reboot is being directed by F. Gary Gray (The Fate of the Furious, The Italian Job). Liam Neeson plays the head of the Men in Black's London branch, Emma Thompson is reprising her role as Agent O, Rafe Spall and Kumail Nanjiani are on board, and Rebecca Ferguson might even be playing the villain.
I'll leave you with this recent post of Thompson dancing around in her MIB suit, because we could all use a little burst of joy to kick us into the weekend:
View this post on Instagram
Took a break from galaxy defending on MiB to make shapes to a song some Andriods sent to me for my birthday. ?. I will be dancing to it for the rest of my natural life. @wondaland should we make the world a better place and leak the track ?
A post shared by Tessa Thompson (@tessamaethompson) on
Men in Black hits theaters on May 17, 2019.