Vintage 'The Mummy' Poster Could Become The Most Valuable Movie Poster In The World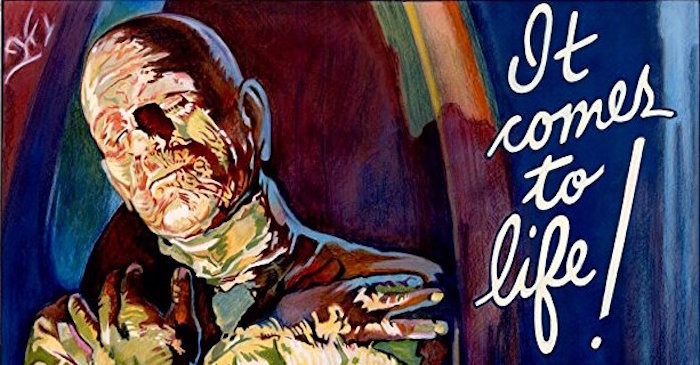 The Mummy and Dracula have been waging a decades-long battle, but not in Universal's Dark Universe. The two classic monster films have been hashing it out over the title for most expensive movie poster in the world, and The Mummy may be coming back from the dead to reclaim that title.
The rare 1932 lithographic poster for the 1932 classic Boris Karloff film The Mummy once held the record for the most expensive poster in the world after it sold at a Sotheby's auction New York in 1997 for $453,500. And, according to The Hollywood Reporter, it could soon break that record again.
After decades under the ground, The Mummy is coming back to reclaim the title of most valuable poster in the world. According to Sotheby's estimates, The Mummy rare 1932 poster is set to sell for between $1 million and $1.5 million at auction this month. This will beat out the current record-holder, the 1931 poster for Dracula, which sold for $525,800 last year.
The Mummy vintage poster held the record for the most expensive poster for nearly two decades after it sold at Sotheby's New York in 1997 for $453,500. But that record was broken in 2014 by the 1927 poster for a Tod Browning silent horror film called London After Midnight, which in turn was staked by the 1931 poster for Dracula.
But like the titular classic monster, The Mummy keeps rising from the dead. The poster was designed by Universal's advertising director Karoly Grosz to be displayed in movie theaters and never sold to the public. Only three are believed to remain in existence, with one owned by Metallica guitarist Kirk Hammet. Though the film has been revisited several times — most recently in the better-off-dead 2017 film starring Tom Cruise — but none is more beloved than the 1932 version starring creature feature stalwart Boris Karloff. Directed by Karl Freund, The Mummy also starred Zita Johann, who appears on the poster as Helen Grosvenor, the reincarnation of the monster's long-lost love Princess Ankh-es-en-Amon.
Online bidding for the poster opens Thursday and closes on October 31, 2018.