'The Hate U Give' Review: Raw, Tense Adaptation Stays True To The BLM-Inspired YA Novel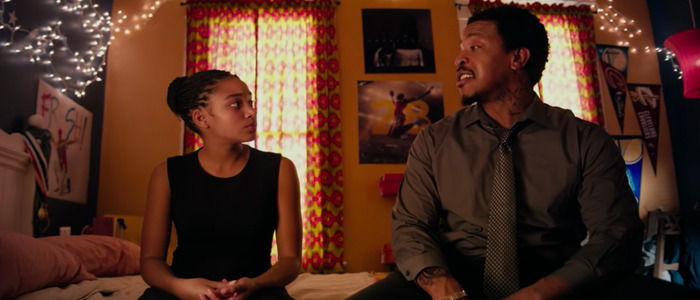 At the turn of the decade, the young adult novel mostly meant a star-crossed romance and many times included a supernatural being, vampire or werewolf.
Angie Thomas changed the game when her 2017 novel The Hate U Give drew inspiration from the recent, police-involved shooting of unarmed black people and the Black Lives Matter movement. Helmed by George Tillman, Jr., the raw, tense and heartbreaking film adaptation stays mostly faithful to the source material, delivering an Oscar-worthy flick that is one of the year's best.
Sixteen-year-old Starr Carter (Amandla Stenberg) is torn between two worlds. One is her neighborhood of Garden Heights, the drug and gang-infested, yet family-oriented community where both of her parents grew up. Her father, drug dealer-turned-community leader, Maverick (Russell Hornsby), wants them to continue to live in the community to help it thrive and change. This is much to the chagrin of her loving, nurse mother, Lisa (Regina Hall), whose family moved she and her brother Carlos (Common) out of Garden Heights to a more affluent neighborhood in their adolescence.
The second world is her school, Williamston Prep, where she is one of the only minority faces in the school, forced to code-switch and contend with microaggressions a daily basis. She doesn't want those worlds to meet and tries to keep them as distinct as possible. Both of Starr's worlds are converged and then dually turned upside down after she witnesses the shooting of her childhood best friend, Khalil (Algee Smith), at the hands of an officer after they are pulled over for no reason.
In complete shock, Starr is grief-stricken after the incident and is left with an internal conflict, contemplating how she can speak for Khalil, even if that means testifying at the grand jury, risking exposure to gang retaliation. Through the course of the film, she comes to terms with the movement and what she has to do to make sure that her voice, Khalil's voice, her family voice and the voice of every black person treated unjustly by society is heard.
Despite all the controversy surrounding her casting, Stenberg gives it her all as Starr in a heart-wrenching performance. Thomas said that when she was writing the book, she imagined Stenberg as the leading lady. When seeing Stenberg's Starr on-screen, it matches up, and the actress is not portraying herself or any other previous role you may associate her with. She is Starr.
The film's excellence is bolstered by its strong cast who shine all across the board. Hornsby delivers an incredible performance – possibly the best and biggest of his career. Of the many standout scenes, the opening, in which he gives "the talk" to a younger Seven, Starr and Sekani gives a packing punch on what black Americans have to go through each day. Hall, most known for her comedic or romantic fare, turns in a great performance as worried mother Lisa. Lamar Johnson brings an earnest portrayal to Starr's half-brother, Seven. And TJ Wright, as the youngest of the Carter clan, Sekani, is the next big child actor.
Though he only appears in the part of the film, the always terrific Algee Smith is electric as Khalil. Despite his short time on screen, his performance stays with you and his presence permeates through the other acts. Another standout despite short screen time is The Deuce actress Dominique Fishback as Kenya, Seven's half-sister. And Anthony Mackie is so good playing so, so bad as drug kingpin/gang leader, King, a former friend of Maverick and Kenya's father. A turn from her previous roles, Sabrina Carpenter shows her versatility with suburban racist Hailey and in the role of Chris, KJ Apa seems like he's Archie Andrews at times, but is solid in showing what it means to be an ally. Issa Rae delivers as activist April Ofrah.
No weak characters, no weak actors, no weak links everyone brings it.    
Like the source novel, the film is still, despite the subject matter, YA through and through. Blurring the political lines that cloud the vision of news headlines, The Hate U Give delivers its message via the intersection of teen love, identity and activism. There are also softer moments, especially between the blended Carter family, as well as some fun moments when Maverick meets Chris.
Much like how Spike Lee's BlacKkKlansman was a how-to guide for how racism is everywhere, The Hate U Give is a course in why Black Lives Matter. Not only through the shooting of Khalil but all throughout the film, the "shoot first, ask questions later" mentality of police officers is highlighted. It also highlights the importance of giving humanity to victims and why their background doesn't matter. Even if their background did matter, knowing how and why they are also victims of the system itself is something that is depicted well in the film.
The movie does give the opinion of the "other as well," without being too preachy or "All Lives Matter"-ing the situation at hand. In a pivotal scene, we hear the police officer's viewpoint. This is a turning point in the film, eventually leading to a number of climaxes for Starr, who explodes at school after a scathing verbal battle with Hailey and taking center stage at a rally for Khalil.
And while the drug/gang aspect to the film feels distracting from the real issue at hand at times (a critique of the novel as well), it is hard to deny the fact that it is masterfully crafted for (and retooled) in the film, resulting in the actual boiling point of the movie that truly kicks you in the gut. The film, which clocks in at just over two hours, seems a bit bloated and could have been trimmed, but it's a nitpick for a film that does so much so well.
While other timely films may command attention this fall, The Hate U Give is required viewing for anyone who wants a better society.
/Film Rating: 8.5 out of 10