'The Kominsky Method' Trailer: Michael Douglas And Alan Arkin Are Aging Best Friends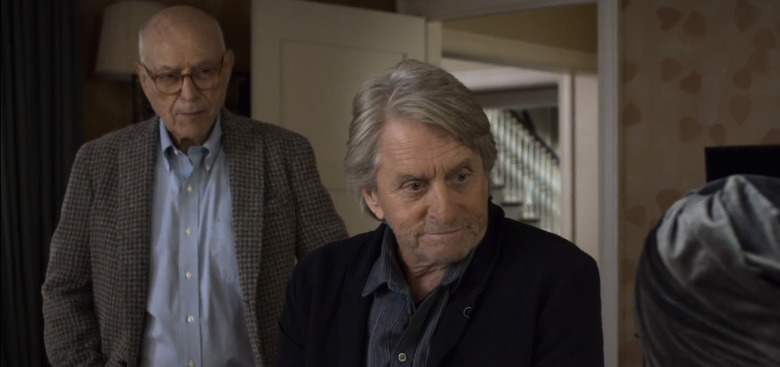 When most people hit that age where they can easily be called elderly, they usually get their comedy from CBS. But Netflix is looking to grab the attention of those older folks who are technologically savvy enough to use the streaming service with a new comedy series from Two and a Half Men and The Big Bang Theory producer Chuck Lorre.
The Kominsky Method is a new comedy series starring Michael Douglas and Alan Arkin as two longtime best friends dealing with their increasingly unreliable bodies and all the other trials and tribulations of getting older in a city like Los Angeles. Surprisingly, this doesn't look like the usual mediocre sitcom that Chuck Lorre usually produces, and it just might be good.
The Kominsky Method Trailer
The Komsinsky Method feels like a spiritual successor to the sadly short-lived TNT series Men of a Certain Age, which starred Scott Bakula, Andre Braugher, and Ray Romano as they were dealing with life in Los Angeles while starting to get up there in years. And what's great is Netflix doesn't keep the series from venturing into more colorful language, so we're not getting the safe-for-TV dialogue you'd expect from a Chuck Lorre sitcom.
Michael Douglas and Alan Arkin are a great pair, even if this feels like territory they tread before with films like Last Vegas and Going in Style. At least this doesn't have some kind of contrived plot device that forces jokes about old people. This is just a couple of older men dealing with the depressing reality of aging, but with some laughs along the way.
On top of the duo leading the show, The Kominsky Method also stars Nancy Travis and Sarah Baker, not to mention having a solid assembly of guest stars like Lisa Edelstein, Emily Osment, Graham Rogers, Danny Devito, Ann-Margret, Jay Leno, Patti LaBelle, and Ashleigh LaThorpe.
The Kominsky Method is executive produced by Michael Douglas and Chuck Lorre, who also directed the first episode and wrote the series with fellow executive producer Al Higgins and Dave Javerbaum. The series hits Netflix on November 16, 2018.
The sun isn't setting yet on the once famous Sandy Kominsky and his longtime agent Norman Newlander.  Academy Award Winners Michael Douglas (Kominsky) and Alan Arkin (Newlander) star as two friends tackling life's inevitable curveballs as they navigate their later years in Los Angeles, a city that values youth and beauty.