'First Man' IMAX Featurette Reveals Why This Movie Is Best On The Giant Screen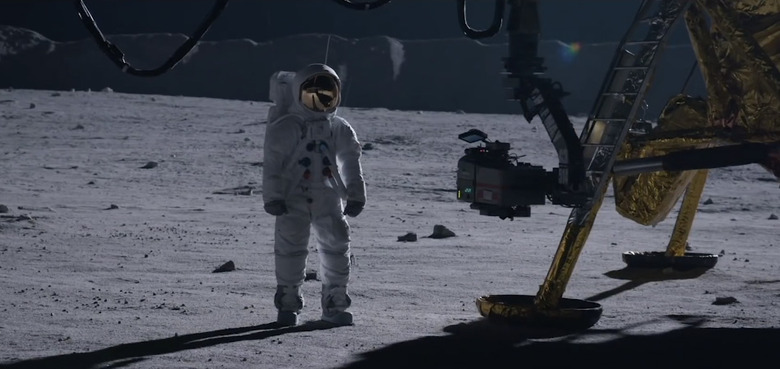 This weekend brings First Man to theaters, the latest film from Whiplash and La La Land director Damien Chazelle. However, this time around the director trades in jazz for the wonder of space as he tells the story of Neil Armstrong's journey from the Earth to the moon. And he does it all with the help of IMAX.
A new First Man IMAX featurette has arrived online to show how Damien Chazelle and his cinematographer Linus Sandgren wanted to immerse audiences in the intensity and excitement of the moon landing through the IMAX format. The wonder of this historic event in history is made all the more powerful on the screen when the film switches from the Super 16mm film used to shoot the rest of the film to the massive IMAX format.
However, before you watch the featurette, beware that it spoils how IMAX is used in the movie and also shows a lot of the moon landing itself, which is from the end of the movie.
First Man IMAX Featurette
As you can see, First Man expands into the IMAX format as soon as the hatch on the lunar module is opened to reveal the moon's surface below. It's described as a Wizard of Oz moment, just like when Dorothy walks into the technicolor land of Oz after the opening of the movie was presented in black and white.
The entire moon landing is shot on the IMAX format, making the moon's surface feel more vast than it ever has before. You might be surprised to learn that this sequence wasn't shot in a sound stage with extensive green screen work. Instead, it was shot at night in the middle of a quarry that has a monochromatic surface with a look not dissimilar to that of the moon.
Cue all the moon conspiracy theorists out there using this as an example of how easy it would be to fake a moon landing.
Anyway, First Man is one of the most riveting, harrowing, intense, and even terrifying depictions of real space travel ever put to film. Aside from the IMAX format being used for the moon landing, the sound in IMAX theaters makes this experience all the more gripping. Space travel has never felt so unnerving and thrilling. But the movie is so much more than that thanks to a story that puts a focus on Neil Armstrong as a man, not just an astronaut from the history books.
First Man is now playing in theaters everywhere. See it on IMAX if you can.