'Black Panther 2': Ryan Coogler To Write And Direct Marvel Sequel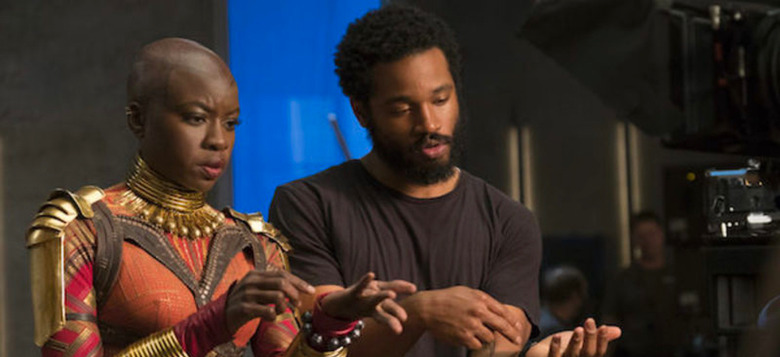 Everyone had hoped and assumed this was happening, and now it's official. Ryan Coogler will return to write and direct Black Panther 2. Coogler's first Black Panther was a huge hit, but the filmmaker's deal to helm the sequel had been kept under-wraps until now. Production on the sequel will likely start in late 2019 or early 2020.
THR has the news about Ryan Coogler staying on as the Black Panther 2 director. Coogler's return seems like an obvious decision – under his guiding hand, Black Panther took in $700 million domestically and more than $1.3 billion worldwide, and there's even serious Oscar talk for the film floating around right now. In other words, Marvel and Disney would've been nuts not to sign Coogler on for another film. In the past, Marvel Studios President Keven Feige said of Coogler's possible return: "We definitely want Ryan to come back and that's actively being worked out right now. When will it be? A lot of it will be when Ryan wants to and not rushing anything, but I think we have an idea of when it will be."
Per THR, Coogler took his time with the deal to write and direct the sequel rather than rushing headlong into a quick agreement. The deal was finalized some time ago, but we're all just learning about it now. It's still too early to know just what a Black Panther sequel will be about, and for the time being, Black Panther himself – Chadwick Boseman's as T'Challa – has been snapped out of existence by Thanos. One could assume that T'Challa's sister as Shuri, played so memorably by Letitia Wright, could take over since she survived the snap. But come on – we all know Avengers 4 is going to reverse things in some way, and T'Challa will be back in action soon enough.
While Disney and Marvel have yet to announce anything final, early plans indicate Coogler will start writing the film early next year, with plans to begin production in late 2019 or early 2020. No official release date has been announced by Marvel yet, but we probably won't see Black Panther 2 until sometime in 2021. Disney has blocked out May 7, 2021 for an "Untitled Marvel Film", so perhaps that's when Black Panther 2 will hit theaters. That's just a guess though.
In the meantime, Coogler is developing his next directorial effort, Wrong Answer, which will star frequent collaborator (and Black Panther co-star) Michael B. Jordan. The movie tells the "true story of how Atlanta high school educators participated in an intricate, systemic standardized-test cheating scandal in 2013."