Johnny Depp Confirmed To Return For 'Fantastic Beasts 3'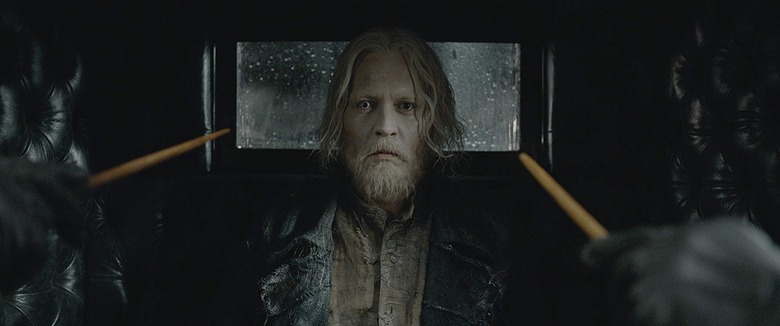 It looks like Johnny Depp is here to stay in the Fantastic Beasts franchise. The actor confirmed that he is set to reprise his role as the Dark wizard Gellert Grindelwald in the third film of the Fantastic Beasts franchise, the prequel series to Harry Potter.
In an interview with Collider, Depp confirmed his involvement in the third film, revealing that he's ""[looking] forward to the next installment, which I think we start the middle of next year."
He expanded on how Rowling approached him for the role, for which he was officially cast in 2016 amidst a contentious divorce and allegations of abuse:
"It was amazing. It came out of nowhere. Someone said J.K. Rowling would like to talk to me. I spoke to a few producers and the director and to J.K. and had long conversations basically about the Grindelwald character. J.K. said something I did not expect to hear because obviously her detail to her characters and those wizarding worlds is astonishing. The fact that she said, 'I can't wait to see what you do with the character.'
Just to hand it off to me with that degree of trust, I was really touched, blown away by that. So I jumped into locating the character and I had my ideas. I came in and it all seemed to work out. Grindelwald is an interesting character. His intentions in his mind are for the greater good, but there have been other people in world politics and such who felt the same way. [chuckles] He's very dedicated to his beliefs. He's not a fun character; he's not funny."
Though controversy remains over Depp's presence in the family-friendly franchise, the cast and crew have stood by the actor, who remains relatively unruffled by the uproar surrounding his retention in the franchise. Calls were made to Warner Bros. to drop Depp following allegations of domestic abuse from his ex-wife Amber Heard, but the Wizarding World steam train keeps chugging on.
Alas, Fantastic Beasts may exist in a magical world where anything could happen, but one of those things won't be Colin Farrell returning to the role after he played Grindelwald's disguise in 2016's Fantastic Beasts.
Depp can next be seen in Fantastic Beasts: The Crimes of Grindelwald, in theaters on November 16, 2018.
In an effort to thwart Grindelwald's plans of raising pure-blood wizards to rule over all non-magical beings, Albus Dumbledore enlists his former student Newt Scamander, who agrees to help, unaware of the dangers that lie ahead. Lines are drawn as love and loyalty are tested, even among the truest friends and family, in an increasingly divided world.