'Ben Is Back' Trailer: Addiction Takes A Toll On Lucas Hedges And Julia Roberts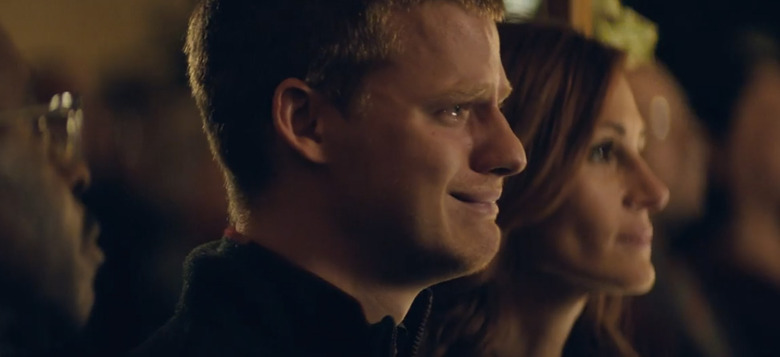 This awards season will see two different stories of drug addiction hitting theaters. There's Beautiful Boy showing the turmoil that addiction creates between a father and son played by Steve Carell and Timothée Chalamet, and then there's Ben Is Back, the new film from director Peter Hedges showing how addiction impacts an entire family, with Julia Roberts doing everything she can to keep her addict son Lucas Hedges from heading down a dangerous path when he returns home. And the latter just released a harrowing new trailer to pull at your heartstrings.
Watch the new Ben Is Back trailer below.
Ben Is Back Trailer
If you're wondering why we need two stories of drug addition, our review from TIFF explains how each of these movies are different from each other. The story of Beautiful Boy keeps the focus squarely on how addiction has an impact on a college boy and his family. But as Marshall Shaffer notes in our review, "Ben Is Back opens [Peter Hedges'] film outwards to reflect on the topic in a larger conversation. He acknowledges that while the film is about one substance abuser and one family, their story does not exist inside a vacuum."
Indeed, this story seems to have a larger impact on the characters surrounding Ben, and there even seems to be more of a threatening side to the life of addiction on display here besides the danger of the drugs themselves. There are the seedy characters who pulled Ben into drugs in the first place, who apparently are still seeking money from him, and then there's the worry about Ben being out on his own with the possibility of relapse looming around every corner. You can feel it in this trailer, especially from the desperation Julia Roberts shows by trying to keep him clean.
But the movie is called Ben Is Back, so it should come as no surprise that it's Lucas Hedges who carries the movie:
"Lucas Hedges provides a beating, aching heart at the center of Ben Is Back with his soulful performance, another reminder of why he is one of the most exciting young performers working today. His vulnerability is striking, even when the events of the film later reveal that he weaponizes it against his family. Even if recovery feels out of sight, Lucas Hedges' raw yearning at least makes us root for his character's redemption."
It may not exactly be the holiday pick-me-up some people will be looking for in December, but Ben Is Back certainly seems like a serious awards contender that will be worth seeking out this December.
19 year-old Ben Burns (Lucas Hedges) unexpectedly returns home to his family's suburban home on Christmas Eve morning. Ben's mother, Holly (Julia Roberts), is relieved and welcoming but wary of her son staying clean. Over a turbulent 24 hours, new truths are revealed, and a mother's undying love for her son is tested as she does everything in her power to keep him safe.
Ben Is Back opens in theaters December 7, 2018.