'Aladdin' Teaser Trailer: Disney Invites You To A Whole New World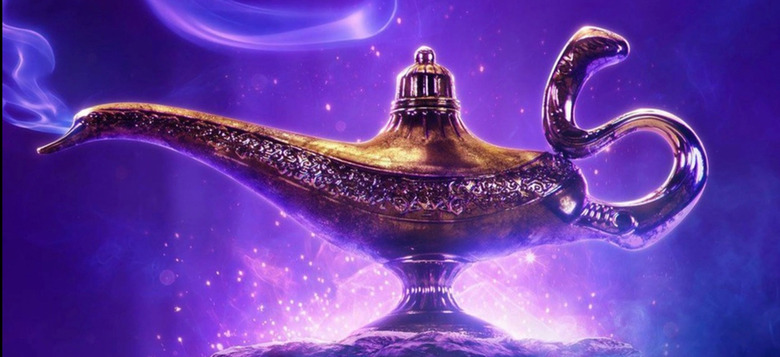 Disney knows a good thing when they see it, so they're all-in on live-action remakes of their animated hits. The latest: Aladdin! The 1992 animated musical featuring a now-iconic vocal performance from the late Robin Williams gets a live-action update courtesy of Guy Ritchie. Will Smith takes on the role of the Genie, who grants wishes to Aladdin, a thief who wants to woo a princess. An Aladdin teaser is now available to start getting you excited about the film. See it below.
Aladdin Teaser Trailer
Will Aladdin work as a live-action movie? The biggest wildcard here is the character of the Genie. In the 1992 film, animation was an essential part in bringing Robin Williams' wild, manic voice work to life. Williams is sadly gone, and now Will Smith is stepping into the Genie's lap to take on the part. Smith can certainly be funny, and he's got a wealth of charisma. But will that work here? We'll have to wait and see.
In the original film, "street rat" Aladdin frees the Genie from a magic lamp, earning three wishes in the process. Aladdin plans to uses these wishes to win over the beautiful Princess Jasmine, but the evil Jafar has other plans. Much singing follows, and Gilbert Gottfried voices a parrot. It's one of the best films in what's known as the "Disney Renaissance," in which the House of Mouse returned to making animated musical films.
Guy Ritchie is at the helm of this live-action reboot, with Mena Massoud starring as Aladdin, Naomi Scott playing Princess Jasmine, Marwan Kenzari in the role of Jafar, and Billy Magnussen playing a new character – a prince who wants to win Jasmine's hand in marriage. Alan Menkin, who wrote the music for the original film, is handling the music here as well, with new songs from Menkin, Howard Ashman and Tim Rice, as well as La La Land songwriters Pasek & Paul.
"It is really interesting because [Guy Ritchie] doesn't come from a place of a big deep background in musicals," Pasek & Paul said. "And that's sometimes really cool and a great way to shake things up. His take on 'Aladdin' is very muscular and action-packed, and that's a very cool energy and point of view to bring into the mix."
Aladdin joins an ever-growing list of live-action Disney remakes. Tim Burton's Dumbo and Jon Favreau's The Lion Kingset to hit theaters in 2019, and Maleficent 2 will arrive in 2020. Disney is also developing live-action remakes for their streaming service – titles like The Sword in the Stone and Lady and the Tramp. A Lilo and Stitch live-action remake was just announced as well.Aladdin opens May 24, 2019.