Dave Bautista May Head To 'Fantasy Island', Which Is Described As "Westworld Meets The Cabin In The Woods"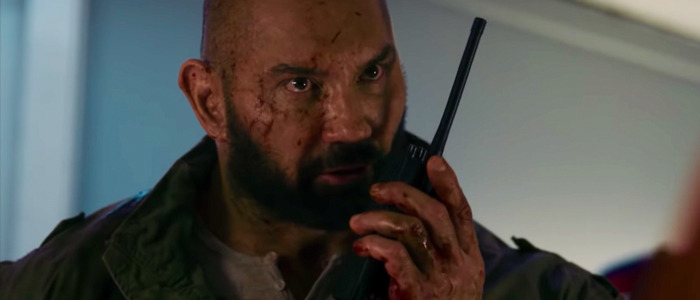 While we wait around to see what the future of the Guardians of the Galaxy franchise will hold, actor Dave Bautista is busy lining up more film roles. The wrestler-turned-actor is now in talks to join the cast of Fantasy Island, Sony and Blumhouse's film adaptation of the popular 1970s television show. Michael Peña (Ant-Man and the Wasp) and Jimmy O. Yang (Crazy Rich Asians) are already on board in key roles, but keep reading to learn more about the Dave Bautista Fantasy Island casting.
The Hollywood Reporter says Bautista is currently in negotiations to join the Fantasy Island cast, in a movie that is being described as "a tonal mix of Westworld meets The Cabin in the Woods." That's one hell of a combination, and the plot follows "a group of contest winners who arrive at an island hotel to live out their dreams, only to find themselves trapped in nightmare scenarios." Peña is playing Mr. Roarke, the mysterious owner of the island and the role that was originated by Ricardo Montalban on the TV series. Yang will play Brax, a guest who travels to the island with the dream of having it all...only to discover that when you have it all, others inevitably come gunning for that top dog status.
If Bautista joins the cast, he will play "a former guest who is still on the island against his will and who wants to expose Roarke and the island's magical secrets." It sounds like this would be a nice change of pace for Bautista, maybe somewhere in between the grizzled badasses that he tends to play in direct-to-video action films and his largely quiet, reserved performance in Blade Runner 2049.
Jeff Wadlow is directing from a script he's writing with Chris Roach (Non-Stop) and Jillian Jacobs (Truth or Dare). I must admit that I rolled my eyes at the thought of yet another old TV show being mined for a potential movie, but this premise sounds compelling to me. And while the cast is great so far, I'm a bit hesitant about Wadlow as its director, considering his filmography – Cry Wolf, Never Back Down, Kick-Ass 2, True Memoirs of an International Assassin, and Truth or Dare – is...well, let's just say I don't look fondly on any of those movies.
There's no word yet about when filming will begin. Producer Jason Blum previously referred to the tone of this movie as "horror adjacent," and the "Westworld meets Cabin in the Woods" description seems to square pretty well with that. Fingers crossed this one turns out better than it looks on paper.