Dave Bautista Is Already Campaigning To Star In James Gunn's 'Suicide Squad'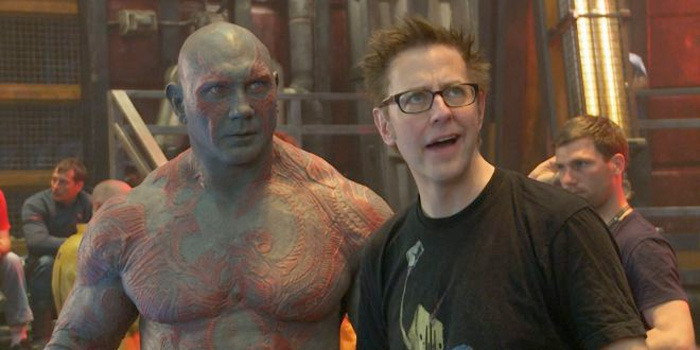 It's no secret that Dave Bautista was one of the more unhappy Guardians of the Galaxy Vol. 3 cast members when director James Gunn was fired after controversial posts on Twitter were brought to light by a disingenuous conservative troll. But now that the filmmaker has been hired to take over the Suicide Squad franchise over at Warner Bros., the wrestler turned actor is ready to follow him into the DC Extended Universe.
After yesterday's news of James Gunn writing and possibly directing Suicide Squad 2, Dave Bautista posted:
Where do I sign up! James Gunn Boards 'Suicide Squad 2' To Write And Possibly Direct – Deadline https://t.co/OwdDbAm1Ks

— Dave Bautista (@DaveBautista) October 9, 2018
It should come as no surprise that Dave Bautista is eager to work with James Gunn again. Not only did the director give him his breakout role as Drax the Destroyer in the Guardians of the Galaxy franchise, but he's been very vocal in his support for the rehiring of James Gunn. Unfortunately, Disney and Marvel have firmly planted their feet and won't be changing their minds on that front.
But that won't stop Dave Bautista from continuing to make comic book movies with James Gunn. Of course, it's early days on Suicide Squad 2, and there's always a chance James Gunn could fall away from the project or end up not directing. Considering how many development hiccups there have been in the DC Extended Universe, nothing is set in stone at this point. These things are never certain until cameras are rolling, so we'll just have to keep our fingers crossed.
As for the best role Dave Bautista could take in the Suicide Squad 2 cast, it wouldn't be a bad idea to have him show up as Bane. He was never part of Suicide Squad, but he's certainly part of the DC Comics universe. But if we're looking for a Suicide Squad team member for Bautista to play, Bronze Tiger seems like a solid idea, even if it means we won't see Bautista's face much under the head of a tiger.
While I find myself more depressed by the prospect of James Gunn heading over to DC Comics instead of finishing what he started at Marvel Studios with the Guardians of the Galaxy, I suppose having him tackling a similar misfit team of characters will have to suffice. If anything, it might allow him to get a little bit darker, but I don't know if that will be enough to get my excited for a Suicide Squad sequel at this point.