'Universal Soldier' Reboot In The Works From 'The Equalizer' Screenwriter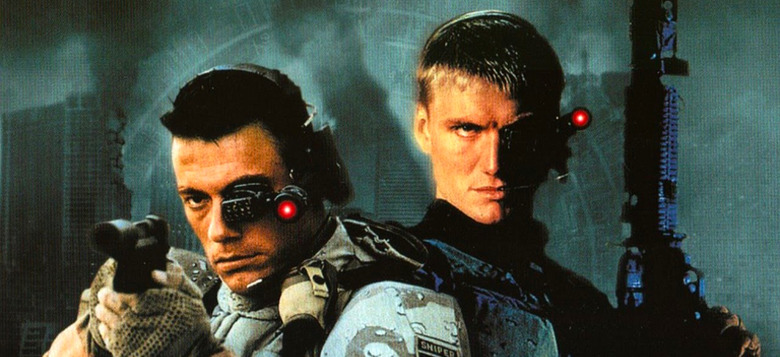 Universal Soldier, the 1992 action film that launched a series of surprisingly good direct-to-video sequels, is the latest title to receive the inevitable reboot treatment. Richard Wenk, the screenwriter of The Equalizer, says he's about to turn in a script for a "re-imagining" of the film, which focused on two dead Vietnam War soldiers (Jean-Claude Van Damme and Dolph Lundgren) brought back to life to be super soldiers in the 1990s. More on the Universal Soldier reboot below.
Remember Universal Soldier? The original film came from Independence Day director Roland Emmerich, and featured Van Damme and Lundgren as re-animated soldiers trained to become unstoppable killing machines. It was a surprisingly bleak film for such a goofy premise, and it launched an inevitable franchise. The first sequel, Universal Soldier: The Return, was a bust. But from there, a curious thing happened. The follow-up sequels – Universal Soldier: Regeneration  and Universal Soldier: Day of Reckoning – were surprisingly good! Day of Reckoning was particularly entertaining – a brutal, bizarre film that borrowed heavily from Apocalypse Now.
Universal Solider
Hollywood can never let a recognizable title die, though, so it was inevitable that Universal Soldier would get the reboot treatment. In an interview with Discussing Film, Richard Wenk, the screenwriter behind the two Equalizer films and the upcoming Kraven the Hunter movie, revealed that he's just about finished with a new take on Universal Soldier. While the original featured two super soldiers, Wenk's re-imagining will only focus on one.
"I will say that I'm just finishing up a re-imagining — let's be clear about this it's not a remake and it is not a redo — but it is a re-imagining of a movie called Universal Soldier...very much like The Equalizer, it's the title that inspired me and not the movies...I'm just about to finish (the script) and turn it in this week," Wenk said. I'm not sure what to make of his "it's the title that inspired me and not the movies" comment, but I suppose that means this film will have very little to do with the original. Universal Soldier in name only, in other words.
This franchise isn't beloved to the point where people will be up in arms about a drastic change. Still, I'd personally prefer to see more batshit insane direct-to-VOD sequels. To better illustrate how crazy this franchise eventually became, please enjoy this wild fight scene from Universal Solder: Day of Reckoning.
Universal Solder: Day of Reckoning Fight Scene