'Widows' Clip: Cynthia Erivo Joins The Team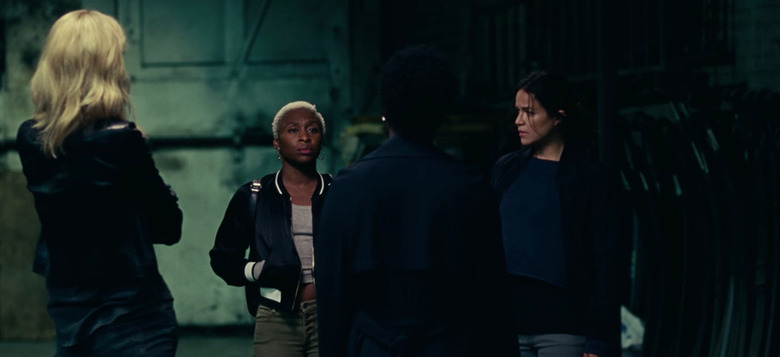 Widows kicks-ass, and you should prepare yourself for the film's marketing to ramp up as the November release date. The action-drama from director Steve McQueen and writer Gillian Flynn assembles a dynamite cast and turns them loose on a mission to pull off a potentially deadly heist. In the Widows clip below, the women at the center of the heist are in desperate need of a driver. Enter scene-stealer Cynthia Erivo, who might just be the solution to their problem.
Widows Clip
In Widows, a group of women band together when their husbands die in the midst of pulling a huge heist. To pay a debt, the widows band together to finish what their husband started – and it won't be easy. Viola Davis, Michelle Rodriguez and Elizabeth Debicki play the Widows in question, but they're not alone in their mission. Midway through their planning, it becomes apparent that they're going to need a driver to get the job done. That's where Cynthia Erivo comes in, as Belle – an acquaintance of Rodriguez's character. In this clip, Belle receives an icy welcome from the mastermind of the heist, played by Davis.
I saw Widows at TIFF, and loved it. The trailers, and even this clip, aren't quite doing the movie justice – it has a lot more on its mind than a simple heist. As I wrote in my review:
ll the pieces are here for your standard heist flick, but director McQueen isn't interested in going there. At least not right away. Instead, he zeroes in on each character, introducing us to their own private worlds...McQueen, a consummate stylist, brings a keen eye to these proceedings. He's fond of getting up and close on Davis' face, and who can blame him – the actress is a powerhouse, and while her character is frequently cold and no-nonsense, we feel like we get to know her through Davis' work here. McQueen also plays around with form – a lengthy conversation is staged without even showing the two people conversing; instead, we just see the car they're in driving out of one low-rent neighborhood to an affluent spot a few blocks away. All of this is aided by Hans Zimmer's churning, ominous score.
Widows opens November 16, 2018. See it.
From Academy Award-winning director Steve McQueen ("12 Years a Slave") and co-writer and bestselling author Gillian Flynn ("Gone Girl") comes a blistering, modern-day thriller set against the backdrop of crime, passion and corruption. "Widows" is the story of four women with nothing in common except a debt left behind by their dead husbands' criminal activities. Set in contemporary Chicago, amid a time of turmoil, tensions build when Veronica (Oscar winner Viola Davis), Linda (Michelle Rodriguez), Alice (Elizabeth Debicki) and Belle (Cynthia Erivo) take their fate into their own hands and conspire to forge a future on their own terms. "Widows" also stars Liam Neeson, Colin Farrell, Robert Duvall, Daniel Kaluuya, Lukas Haas and Brian Tyree Henry.