Netflix Officially Grabs Soderbergh's 'The Laundromat' As More Actors Join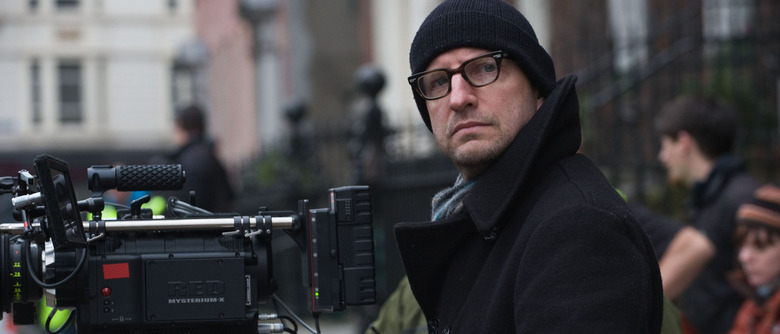 This past summer, we heard Netflix might be interested in acquiring Steven Soderbergh's The Laundromat, the prolific filmmaker's upcoming movie which tells the true story of the publication of the Panama Papers, the largest leak of corporate data in history. It turns out the streaming platform's interest was real, because Netflix is now officially on board to finance and release the movie.
That's not all: The Laundromat cast continues to grow, with David Schwimmer (Band of Brothers, Friends) joining veterans like Gary Oldman, Meryl Streep, and Antonio Banderas. Find out who else is in talks to star below.
Deadline reports that Netflix has committed to fund and distribute The Laundromat, Soderbergh's film adaptation of author Jake Bernstein's book Secrecy World, which tracks "the web of money laundering and other criminal activity revealed in the data leak." According to Deadline, Schwimmer will play Matthew Quirk, a lawyer who realizes the insurance company he represents is just a P.O. box, one of thousands of shell companies created by the team at Mossack Fonseca to aid the powerful in avoiding tax payments. Will Forte (MacGruber) and Riley Keough (The Girlfriend Experience) are currently "circling" the movie as well, so don't be surprised to see them officially hop on board soon.
In 2015, 11.5 million documents from a Panamanian law firm called Mossack Fonesca were uncovered that detailed the various legal and illegal ways powerful people and corporations hide their money in offshore accounts – including heads of state (Donald Trump, former UK Prime Minister David Cameron, Icelandic Prime Minister Sigmunder Gunnlaugsson) and even people in the film world (Jackie Chan, Emma Watson, and Pedro Almodovar).
Soderbergh's frequent collaborator Scott Z. Burns (Contagion, The Informant!, Side Effects) wrote the screenplay for The Laundromat. We don't know exactly who Oldman or Banderas will be playing, and even Streep's character is being kept under wraps for the time being – though we do know that she's apparently "the emotional throughline" of the story. Soderbergh is no stranger to assembling killer casts, and this one sounds like it's going to be another collection of some of the best performers in their field uniting to tell a timely story under one of the most fascinating filmmakers working today.
Also: for those who haven't enjoyed the fact that Soderbergh has recently become enamored with shooting his movies on iPhones, fear not: because of the scope of this particular project, he'll reportedly be utilizing the latest RED cameras instead.
Filming is supposed to commence sometime this fall, so expect to see this one hit Netflix in 2019.