'World War Z 2' Still Has David Fincher Attached To Direct, Production Set To Begin In June 2019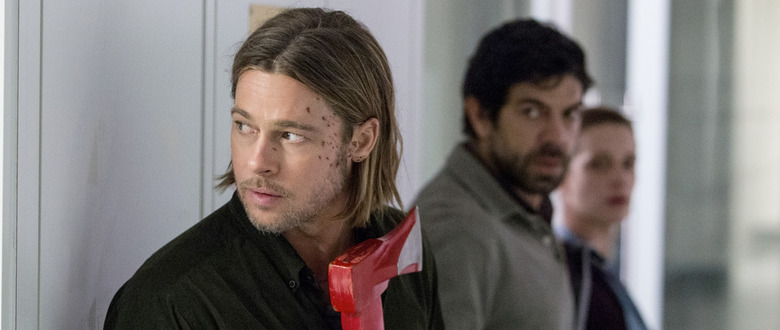 A sequel to World War Z has been in the works ever since the first film became a monster hit, earning over $540 million worldwide. However, in the five years since then, it's had plenty of delays and has gone back and forth between being a project that David Fincher would return to direct. At one time Jurassic World: Fallen Kingdom director J.A. Bayona was even aboard the project, choosing to take on the zombie sequel instead of the dinosaur sequel, but we all know how that worked out.
Now we have word that World War Z 2 is still alive (or undead) and kicking, straight from producers Dede Gardner and Jeremy Kleiner. The two revealed that not only is David Fincher is still attached to direct once again, but Brad Pitt is also back, and production is now slated to begin next summer.
Here's the red carpet interview from Variety where the latest World War Z 2 update comes from:
#BeautifulBoy producers Dede Gardner and Jeremy Kleiner give a #WorldWarZ sequel update https://t.co/uCeXloik7j pic.twitter.com/JMAAIH6xWo

— Variety (@Variety) October 9, 2018
Dede Gardner and Jeremy Kleiner seem confident that World War Z 2 is happening, and their mention of a June 2019 production start lines up perfectly with David Fincher's schedule. Currently, the filmmaker is shooting the second season of Mindhunter for Netflix, but he'll be done with that in December before going into post-production, which will likely lead him right up to June next year. The same can be said for Brad Pitt, who is currently still busy shooting Quentin Tarantino's Once Upon a Time in Hollywood but appears to have an opening in his schedule for next summer.
Dennis Kelly is the most recent writer to have tackled World War Z, and David Fincher confirmed that they had been working on the script for about a year as of October of 2017. So presumably not much has changed with the script since then. Of course, it's hard to tell since we don't have any idea what the movie will be about yet. Back in 2015, Steven Knight said he was starting with a clean slate when he was working on the film, so who knows if anything from his script survived the new version.
Honestly, the prospect of David Fincher directing a World War Z sequel isn't all that enticing to me. I'd rather instead he tackle something else more original. But then again, maybe David Fincher tackling a sequel like this is precisely what the blockbuster world needs, assuming it's something refreshing and not just a retread of the first film. Stay tuned to see if this sequel actually comes together this time.