'Batwoman' Begins: First Look At Ruby Rose As The CW Superhero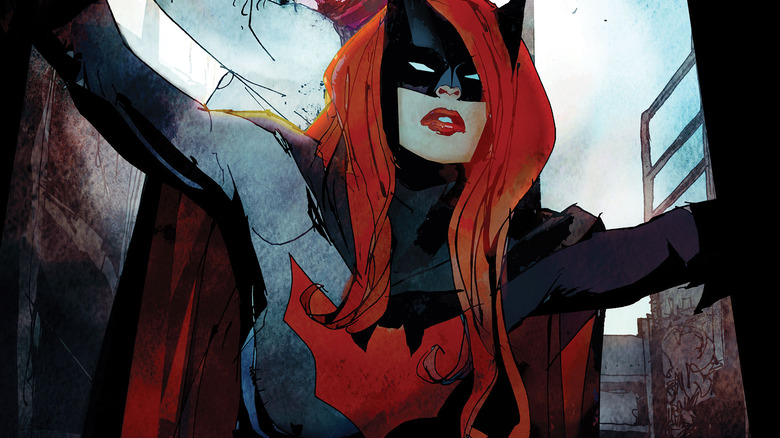 Meet The CW's Batwoman. The TV network has released the first look at Ruby Rose in costume as the Gotham City caped crusader, who will make her small-screen debut in this winter's upcoming Arrow-verse crossover between the CW comic book shows Arrow, The Flash, and Supergirl.
Batwoman First Look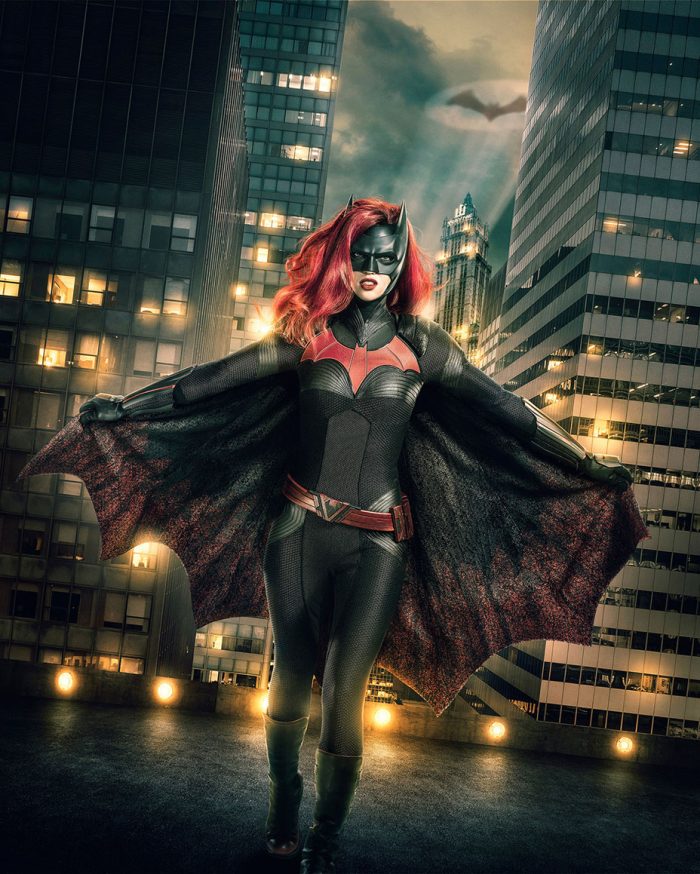 As the teens say these days, WIG.
In the Batwoman first look debuted by The Hollywood Reporter, Ruby Rose rocks the lesbian superhero's signature bright red wig, which in the comics the short-haired heiress dons to hide her identity. And surprisingly, considering the CW's spotty track record with wigs (and the superhero genre in general), the wig actually looks great. It's supposed to look bright and artificial — unlike a certain aquatic love interest — and from this Batwoman first look, it actually seems to have volume and body.
As for the rest of the costume, well it's a CW TV show. As designed by award-winning designer Colleen Atwood, who also created the spandex suits for Arrow, The Flash and Supergirl, the costume has a tactical feel that fits the designs of the CW superhero universe and will likely fit the packed TV production schedule for the December 9 crossover episode and potential Batwoman spin-off series in the works. The only thing that's a little off-putting is the cape, which veers dangerously close to cosplay. But you can't win 'em all.
But Ruby Rose's role as Batwoman is still considered an overall win, as the Orange is the New Black alum dons the cowl to play the CW's first major lesbian superhero. Greg Berlanti's Arrow-verse — which has always been incredibly progressive with its diverse casting — has been on a roll with representation lately, recently casting trans actress and activist Nicole Maines as a series regular in Supergirl this season.
The Batwoman solo series is currently in development with Caroline Dries (The Vampire Diaries) penning the script. The series has not yet been officially picked up by the CW, but here's the series logline per THR:
"[Batwoman] centers on Kate Kane, who, armed with a passion for social justice and flair for speaking her mind, soars onto the streets of Gotham as Batwoman, an out lesbian and highly trained street fighter primed to snuff out the failing city's criminal resurgence. But don't call her a hero yet — in a city desperate for a savior, Kate must overcome her own demons before embracing the call to be Gotham's symbol of hope."
Rose will make her debut as Batwoman in the December 9, 2018 crossover episode between Arrow, The Flash, and Supergirl.