'Here And Now' Trailer: Sarah Jessica Parker Tries To Sort Her Life Out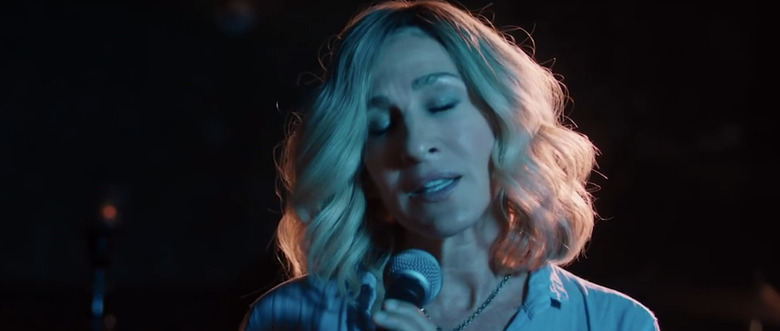 The film festival circuit is full of movies featuring characters who are just trying to sort their lives out. Aren't we all trying to do that every day? Anyway, these kinds of movies come and go, and even though they strike the right chord every now and then, others seem doomed to be forgotten. Unfortunately, this Tribea Film Festival selection appears to be the latter.
Here and Now (which is an awful, forgettable title), follows Sarah Jessica Parker as a well known singer/songwriter in New York City who suddenly finds a new perspective on life when she receives some kind of life-altering news. More than likely it's some kind of terminal illness. Honestly, in this first Here and Now trailer, it all seems painfully generic and melodramatic.
Watch the Here and Now Trailer
This feels like the kind of story we've seen play out a thousand times before. An upscale family has dysfunction, but there's nothing particular intimate or personal about it, but the faux emotions on display are enough to pull at your heartstrings just enough to feel somewhat consequential. However, this trailer is so poorly edited that it all feels lazy and lost.
Honestly, I find myself being more sad that Sarah Jessica Parker has been relegated to roles like this. And the same can be said for Renée Zellweger, who really deserves more than being the wine-sipping, chatty best friend in a melodrama like this. We're just a church and a prayer away from this feeling like some kind of faith-based drama. There's gotta be something better out there for these ladies.
Otherwise, the cast includes Simon Baker, Common, Taylor Kinney, Waleed Zuaiter, and Jacqueline Bisset, all under the direction of Fabien Constant with a script by Laura Eason.
Vivienne (Sarah Jessica Parker), is an established singer/songwriter with a successful music career. On the eve of a major performance, Vivienne receives some life-altering news that causes her to reevaluate her priorities. As she crisscrosses the busy streets of New York City, she tries to balance her upcoming music tour, family, and friends. With the support of her overbearing mother, Jeanne (Jacqueline Bisset), her long-time manager, Ben (Common), and her ex-husband, Nick (Simon Baker), Vivienne strives to make peace with the decisions and sacrifices she's made along the way.
Here and Now hits select theaters and VOD on November 9, 2018.