Ridley Scott's Sci-Fi Drama 'Raised By Wolves' Ordered Straight To Series By TNT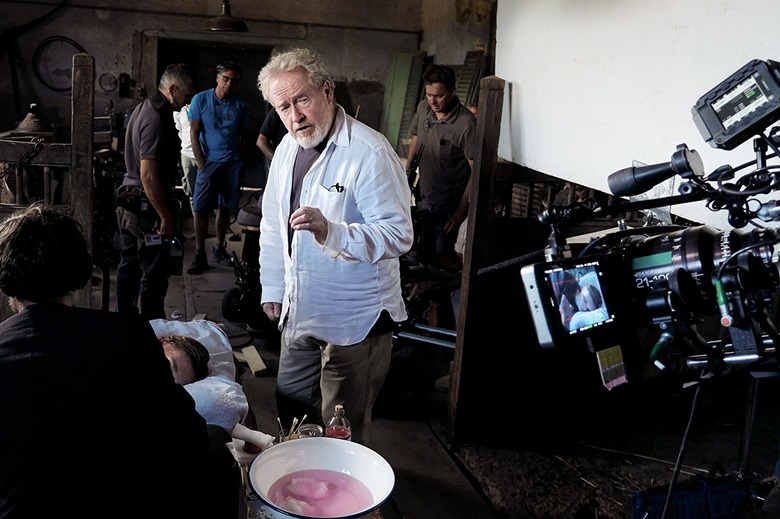 Ridley Scott is the latest feature film director to make the leap to TV. The All the Money in the World director is set to make his TV directorial debut with the sci-fi drama Raised by Wolves, which has just received a series order from TNT. The series will be written by Aaron Guzikowski, the screenwriter behind Denis Villeneuve's acclaimed Prisoners, who will also serve as showrunner.
Ridley Scott has worked with TNT before, having served as executive producer for the 2007 miniseries The Company. But Raised by Wolves marks Scott's first time directing for TV — joining his cohorts like David Fincher, Steven Soderbergh, and others award-winning filmmakers who have made the move to the small screen.
And Raised by Wolves sounds like a project fit for the filmmaker behind seminal sci-fi franchises like Alien and Blade Runner. The TV series follows two androids who raise human children on a mysterious planet, and slowly learn that controlling humans is more difficult than they anticipate.
Here's the synopsis for Raised by Wolves from the TNT press release:
Raised by Wolves centers upon two androids tasked with raising human children on a mysterious virgin planet. As the burgeoning colony of humans threatens to be torn apart by religious differences the androids learn that controlling the beliefs of humans is a treacherous and difficult task.
"I'm always searching for new frontiers in the sci-fi genre and have found a true original in Raised by Wolves—a wholly distinct and imaginative world, full of characters struggling with existential questions: What makes us human? What constitutes a family?  And what if we could start over again and erase the mess we've made of our planet?  Would we survive? Would we do better?" said Ridley Scott in the accompanying release. "Given TNT's impressive run of bold, quality programming, this feels like exactly the right home for this kind of ambitious television."
Scott will produce the series through his studio Scott Free Productions in association with Turner's Studio T and Madhouse Entertainment alongside David W. Zucker (The Man in the High Castle) and Jordan Sheehan (The Terror). Executive producers include Madhouse Entertainment's Adam Kolbrenner (Prisoners) and Robyn Meisinger (Prisoners).
No release date has yet been set for Raised by Wolves.