'Venom' And 'A Star Is Born' Both Exceed Opening Weekend Expectations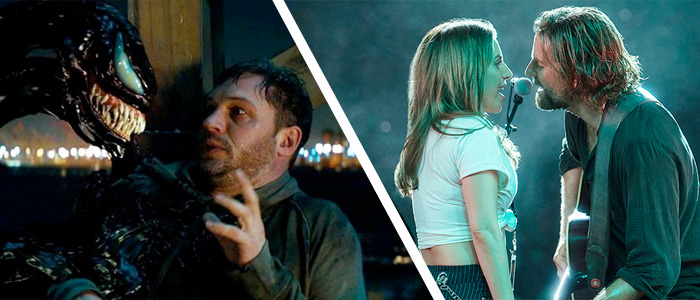 The October box office has kicked off with a bang as newcomers Venom and A Star Is Born both exceeded expectations with their opening weekend box office.
Despite missing the presence of Spider-Man, the Sony Pictures comic book title Venom still raked in $80 million for the weekend. Meanwhile, A Star Is Born earned a little more than half that with an estimated $42.6 million. That's enough to help set the record for an all-time high domestic overall box office total for the month of October. Find out more about the A Star Is Born and Venom box office below.
Box Office Mojo has the numbers for the weekend, and while both A Star Is Born and Venom overperformed, it should be noted that they were helped by having some extra screenings that most opening weekends don't usually have. A Star Is Born had some sneak preview screenings on Tuesday and Wednesday across the country while Venom started their sneak preview screenings on Thursday night at 5pm instead of the usual 7pm. That certainly added some cash to both of the movies, but each still had great weekends.Venom's total of $80 million makes it the best October opening of all time, surpassing Alfonso Cuaron's Gravity, whch previously earned $55.7 million in 2013. The question is how it will hold up in its second weekend. Superhero movies like this are consistently front-loaded and see massive drops in their second weekend. However, audiences seem to be liking Venom much more than critics with the film receiving a B+ CinemaScore. So if word of mouth spreads, then more people might turn out, especially without much tentpole competition.
Internationally, Venom landed $125.2 million from 58 markets. It even gave Sony their second largest opening ever in Korea, coming in just behind Spider-Man: Homecoming, funnily enough. The movie still has to open in France, Japan and China, so the movie is only going to rake in more money worldwide.
Meanwhile, A Star Is Born had quite the succesful weekend as well. After an estimated opening somewhere in the mid-$30 million range, the movie brought in $42.6 million (or $41.25 million if you don't include the sneak preview screenings from earlier in the week). The film is a big awards contender, so it should have some decent legs heading into October, especially if Lady Gaga fans keep seeing the movie, even if it's not the most uplifting story to warrant repeat viewings.
Worldwide, A Star Is Born isn't anywhere near as big of a hit as Venom with just $14 million from 31 markets. But it still has to open in a much of bigger markets through October, including South Korea, Brazil, Italy, Mexico, and Australia. It won't even hit Japan until December.
You can see how the rest of the box office chart filled out at Box Office Mojo.