'The Umbrella Academy' First Look Reveals Release Date For Netflix Comic Book Series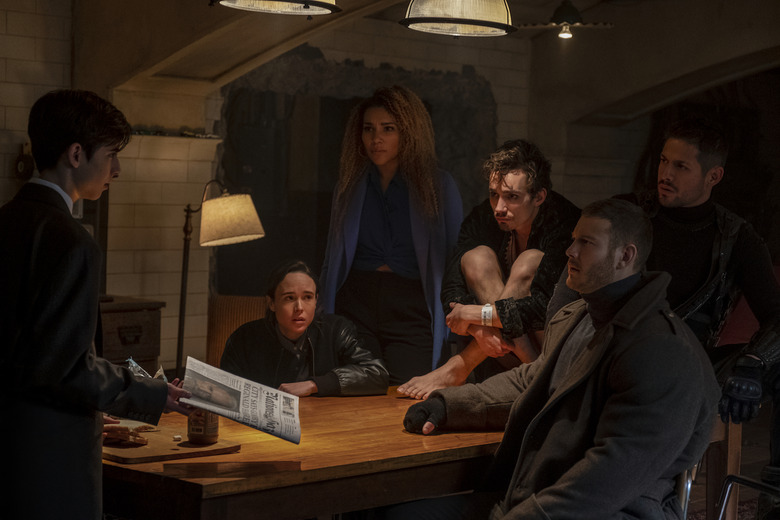 Netflix has just released the first images and a release date for its next comic book series, The Umbrella Academy.
The Umbrella Academy first look gives us a glimpse at the star-studded cast of the adaptation of Gerard Way's graphic novel, led by superhero vet Ellen Page. She plays one of the members of a "super" dysfunctional family who must come together to — what else? — save the world.
Based on the Eisener Award-winning comics and graphic novels by My Chemical Romance frontman Gerard Way and illustrated by Gabriel Bá, The Umbrella Academy tells the story of a group of seven superpowered misfits who live in an alternate timeline where John F. Kennedy was never assassinated. Adopted by an extraterrestrial in disguise named Sir Reginald Hargreeves a.k.a. The Monocle, these seven children are raised and trained the seven to become a team of dysfunctional superheroes.
Netflix picked up the series last year as part of its expansion into comic book adaptations, and soon cast X-Men alum Ellen Page as one of the seven misfit heroes. Now Netflix has released three first images, along with a February 2019 release date, from The Umbrella Academy, showing Page as part of yet another motley crew of heroes.
The Umbrella Academy First Look
Also starring in the live-action series are Tom Hopper, Emmy Raver-Lampman, Robert Sheehan, David Castañeda, Aidan Gallagher, Cameron Britton, and Mary J. Blige. The cast is talented to be sure, but can The Umbrella Academy stand out in the oversaturated field of superhero titles? I'm rooting for Page to get a big hit, and am excited to see Sheehan playing a superpowered character again after his breakout role in the raunchy U.K. super series Misfits.
Steve Blackman (Fargo) will serve as executive producer and showrunner, with additional executive producers Jeff F. King (Hand of God), Bluegrass Television, and Mike Richardson and Keith Goldberg from Dark Horse Entertainment. Way and Bá will serve as co-executive producers.
Here is the official synopsis for The Umbrella Academy:
On the same day in 1989, forty-three infants are inexplicably born to random, unconnected women who showed no signs of pregnancy the day before. Seven are adopted by Sir Reginald Hargreeves, a billionaire industrialist, who creates The Umbrella Academy and prepares his "children" to save the world. But not everything went according to plan. In their teenage years, the family fractured and the team disbanded. Now, the six surviving thirty-something members reunite upon the news of Hargreeves' passing. Luther, Diego, Allison, Klaus, Vanya and Number Five work together to solve a mystery surrounding their father's death. But the estranged family once again begins to come apart due to their divergent personalities and abilities, not to mention the imminent threat of a global apocalypse.
The Umbrella Academy will premiere on Netflix on February 15, 2019.