'Good Omens' Trailer: David Tennant And Michael Sheen Team Up To Stop The Apocalypse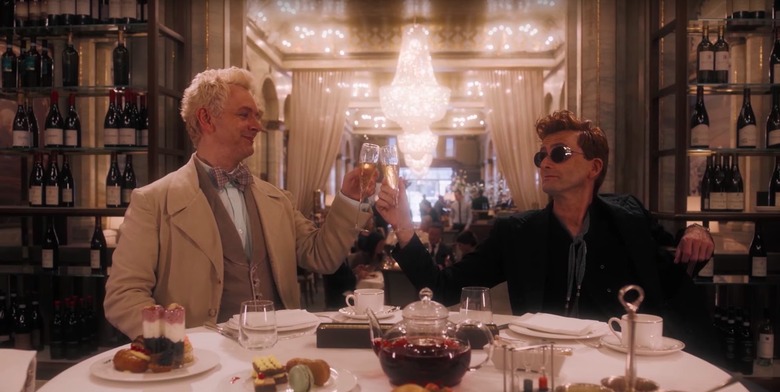 The heavens truly are blessing us today: The first Good Omens trailer is here.
The Amazon Prime series finally brings the acclaimed Neil Gaiman and Terry Pratchett novel to life, and there's no one better to headline the dark comedy than David Tennant and Michael Sheen. The duo star as a demon and angel, respectively, who work together to stop the apocalypse prophesied to be brought about by none other than Satan's son, the Antichrist (Sam Taylor Buck).
Good Omens Trailer
On the heels of the Good Omens panel at New York Comic-Con, Amazon has released the first Good Omens trailer. The trailer gives us a glimpse of the unlikely friendship between Aziraphale (Sheen), an uptight angel, and Crowley (Tennant), a devil-may-care demon with sinfully great hair, that has spanned eons. But that long friendship is soon threatened by the prophesied Armageddon, which is put in motion by the birth of the Antichrist. Hellbent on preserving the lives they've made for themselves on Earth, Aziraphale and Crowley strike up an alliance to save the world from the apocalypse. Oh, and Jon Hamm makes an appearance as the archangel Gabriel, of course.
Like the NYCC panel that preceded the trailer, this Good Omens teaser is brimming with cheeky banter and a wry British attitude. Which falls perfectly in line with the classic 1990 novel of the same name by Gaiman and Pratchett. That novel is so hilariously British that it would seem near-impossible to bring to the screen, but if anyone is qualified to do it, it's Gaiman, who writes and acts as a showrunner for the series. Gaiman at first was reluctant to adapt the book, but received a posthumous blessing from Pratchett to bring the story to the life after Pratchett's death in March 2015. This will be the longtime author and screenwriter's first time acting as a showrunner, but he's gotten some practice in lately as executive producer for the acclaimed Starz adaptation of American Gods.
Here is the official synopsis for Good Omens:
Based on the best-selling novel by renowned authors Terry Pratchett and Neil Gaiman, this series follows the story of Aziraphale, an angel, and Crowley, a demon, who have formed an unlikely friendship spanning 6,000 years and have grown fond of life on earth. However, the end of time grows near with the approaching Armageddon and they must now join forces to find a way to save the world.
Good Omens premieres on Amazon Prime sometime in 2019.