'Lady And The Tramp' Cast Adds 'Hidden Figures' Star Janelle Monáe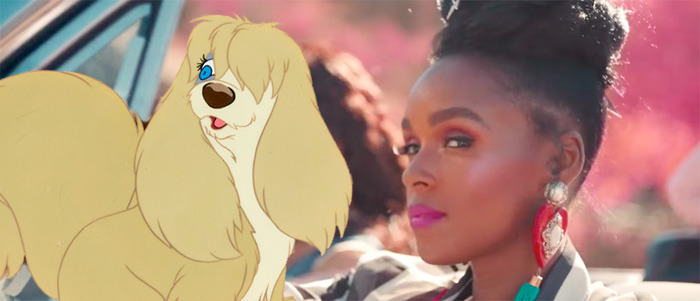 The cast of Disney's live-action remake of Lady and the Tramp already has Tessa Thompson and Justin Theroux on board to voice the titular dogs in the tale of canine romance from two different side of the tracks. But over the past few months, the cast has filled out with even more impressive talent, and one more name has just signed on in a key supporting role.
Janelle Monáe, who co-starred in Hidden Figures and had a supporting role in the Best Picture winner Moonlight, will voice a dog named Peg. If you don't remember that character from the original movie, we've got everything you need to know below.
For those who don't remember or maybe never experienced Lady and the Tramp, here's the synopsis of the original:
This Disney animated classic follows a pampered cocker spaniel named Lady (Barbara Luddy) whose comfortable life slips away once her owners have a baby. When, after some tense circumstances, Lady finds herself on the loose and out on the street, she is befriended and protected by the tough stray mutt Tramp (Larry Roberts). A romance begins to blossom between the two dogs, but their many differences, along with more drama at Lady's household, threaten to keep them apart.
Deadline has word on Janelle Monáe being added to the Lady and the Tramp remake cast. Her character Peg (voiced by Peggy Lee in the animated movie) is probably best remembered for singing the tune "He's a Tramp." She's a sassy Shih Tzu Maltese dog who is friends with Tramp, who helps her make a getaway from the dogcatcher in the beginning of the original movie. She appears later in the dog pound when Lady ends up mistakenly caught as a stray, and that's where we get a real sense of her sultry attitude.
As for the rest of the cast, Thomas Mann, Kiersey Clemons, Benedict Wong, Ashley Jensen and Yvette Nicole Brown are all part of the project, which will have a mix of live-action and computer animation to bring the dogs to life. We don't know if this will have musical elements like the original requiring the cast members to sing, but it would be a shame if we didn't get to hear Janelle Monáe's rendition of "He's a Tramp."
Charlie Bean (The LEGO Ninjago Movie) is at the helm of the film which will keep the basic logline intact, but will likely update the movie for modern times. The script comes from Andrew Bujalski. As for when we might see the movie, that remains to be seen. The film is intended to be part of the Disney Play subscription service launching sometime next year. So stay tuned for whatever details we learn.