Chris Evans Gets Rian Johnson's 'Knives Out' With Daniel Craig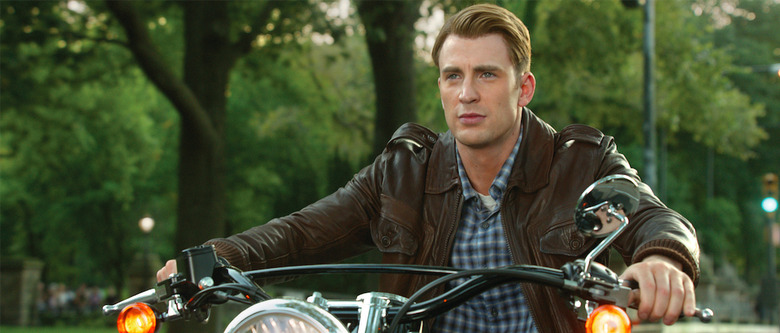 Now that Chris Evans has bid a fond farewell to Captain America following the completion of reshoots on Avengers 4, he's lining up action elsewhere with a new project.
Knives Out is a new murder mystery from Star Wars: The Last Jedi director Rian Johnson that already has James Bond franchise star Daniel Craig on board to star. The project got a lot of attention at the Toronto International Film Festival where Media Rights Capital picked it up in the biggest deal to come out of the fest. Now Chris Evans has hopped on board the high profile project.Deadline has word on Chris Evans landing the role in Knives Out. Unfortunately, we don't know much about who Chris Evans is playing, mostly because we doon't know much about Knives Out at all. So far all we've heard is that it's a murder mystery inspired by Agatha Christie novels and features Daniel Craig playing a detective investigating said murder. The project has been described as having a "classic whodunit style, infused with Johnson's original voice that informed films from Brick to Looper."
Apparently the project is a hot commodity right now, and if it plays out like other Agatha Christie novels, then there are likely plenty more famous faces to be added to the project as it continues to develop. The plan is for the film to start shooting before the year is out, meaning it will get off the ground before the next installment of James Bond, and certainly before Rian Johnson starts working on his own new Star Wars trilogy.
Rian Johnson will be directing Knives Out from a script he wrote himself and he'll be producing along with business partner Ram Bergman. The two have formed their own production banner and will be quite busy together for the foreseeable future.
It'll be interesting to see what Chris Evans does with his career now that he'll no longer be tackling Captain America. That will free up a lot of his time, and the money he's made from the Marvel Cinematic Universe should give him quite a bit of freedom to be picky about his roles. He's already taken on interesting projects like Snowpiercer and he has the upcoming movie Greenland with Neill Blomkamp on the way. But otherwise he's been relegated to mostly romantic comedies and family dramas. I'd really like to see what he can do.