'The Mule' Trailer: Clint Eastwood Runs Drugs And Bradley Cooper Isn't Having It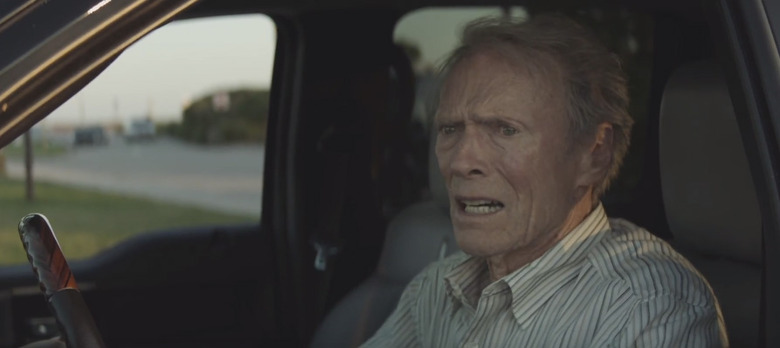 The last time Clint Eastwood directed and starred in a film was nearly a decade ago, with Gran Torino in 2009. Now he's back in front of the camera and behind it with a new drama from Warner Bros. Pictures that feels like it's really making a push for awards.
The Mule stars Clint Eastwood as Earl Stone, an eighty-something who is broke and alone and on the verge of losing his business and home. But a new job opportunity comes along and all he has to do is drive. Unfortunately, that new job is running drugs for a Mexican cartel, and the law starts getting on his trail.
Watch The Mule Trailer
Clearly, Clint Eastwood is looking to make this as dramatic as possible. The trailer almost feels too heavy-handed and it has the distinct style of Eastwood's dramatic work as a director in recent years. That includes the presence of Bradley Cooper as DEA agent Colin Bates, who is in pursuit of this elderly new drug mule.
Personally, I'm wondering what drew Eastwood to this story. Knowing the director's political leanings, part of me is concerned that he'll use this as an opportunity to paint a cliched image of Mexican drug dealers all the while this character is made to look like a victim. But maybe that's not what this movie will be at all. We'll have to see the whole thing to find out.
The Mule also stars Laurence Fishburne, Michael Peña, Dianne Wiest and Andy Garcia, as well as Alison Eastwood, Taissa Farmiga, Ignacio Serricchio, Loren Dean, and Eugene Cordero.
Earl Stone (Clint Eastwood) is a man in his 80s who is broke, alone, and facing foreclosure of his business when he is offered a job that simply requires him to drive. Easy enough, but, unbeknownst to Earl, he's just signed on as a drug courier for a Mexican cartel. He does well—so well, in fact, that his cargo increases exponentially, and Earl is assigned a handler. But he isn't the only one keeping tabs on Earl; the mysterious new drug mule has also hit the radar of hard-charging DEA agent Colin Bates (Bradley Cooper). And even as his money problems become a thing of the past, Earl's past mistakes start to weigh heavily on him, and it's uncertain if he'll have time to right those wrongs before law enforcement, or the cartel's enforcers, catch up to him.
The Mule hits theaters on December 14, 2018.