New 'Titans' Trailer Arrives As DC Universe Orders A Second Season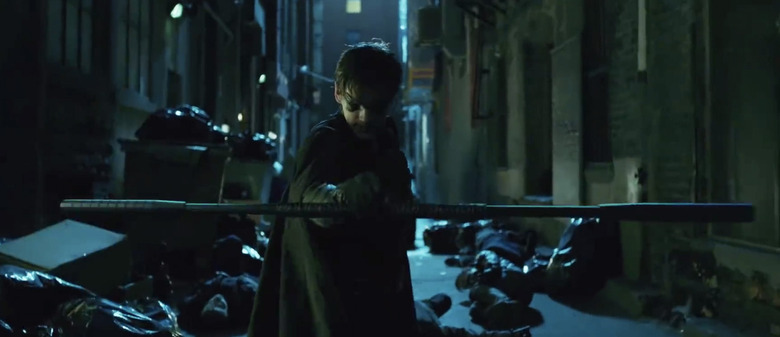 After premiering at New York Comic-Con last night, DC Universe released a new trailer for the first season of Titans, showing off even more of the dark, seedy series featuring Robin (Brenton Thwaites), Raven (Teagan Croft), Starfire (Anna Diop) and Beast Boy (Ryan Potter).
With the early buzz being more positive than negative, DC Universe felt confident enough to renew the streaming series for a second season, even before the first episode has premiered.
New Titans Trailer
This trailer revels in the fact that there isn't any censorship holding them back. There's blood, a hint of sex, and a tone that puts all of the darkness on display. Plus, this trailer really shows off the powers of the Titans, from Beast Boy's alternate tiger form to Raven's darker superpowers. And there's finally a tease of these character coming together to form a team. Hopefully, it doesn't take them too many episodes before that actually happens.
While the early buzz does have some unsatisfied critics, most of them were willing to give the series a chance to grow beyond what was shown in the sneak preview at NYCC. Though many agree that the content does seem to be basking a little too much in the lack of limitations on violence and whatnot, apparently the action scenes are rather well executed, and one review even called it the best DC Comics series to date. You can get even more reactions in our reviews round-up over here.
As for the show's renewal for a second season, it's hard to say where that might take the DC Comics superhero team when we don't know where they end up by the conclusion of the first season. But Craig Hunegs, President of Warner Bros. Digital Networks, had this to say about the renewal:
"This is just the beginning of our journey to open up the world of DC for our fans. With new originals, digital comics, and a growing community forum, we're delivering an immersive experience that blends page and screen, creating a place where fans can share their passions for their favorite superheroes and storylines like never before."
With shows like Swamp Thing, Doom Patrol and Stargirl in the works, DC Universe has quite an ambitious slate of all-new programming ahead of them. Much of it features characters who haven't been given a lot of time in the spotlight in television or streaming, so it'll be interesting how they get general audiences on board for these shows alongside the DC Comics fans who are already familiar with them.
Titans arrives on the DC Universe subscription service starting on October 12, 2018.
From executive producers Akiva Goldsman, Geoff Johns, and Greg Berlanti, TITANS follows a group of young soon-to-be Super Heroes recruited from every corner of the DC Universe. In this action-packed series, Dick Grayson emerges from the shadows to become leader of a fearless band of new heroes, including Starfire, Beast Boy, Raven and others.