The Mandalorian: Directors, First Photo, Details & More Revealed For Jon Favreau's Star Wars TV Series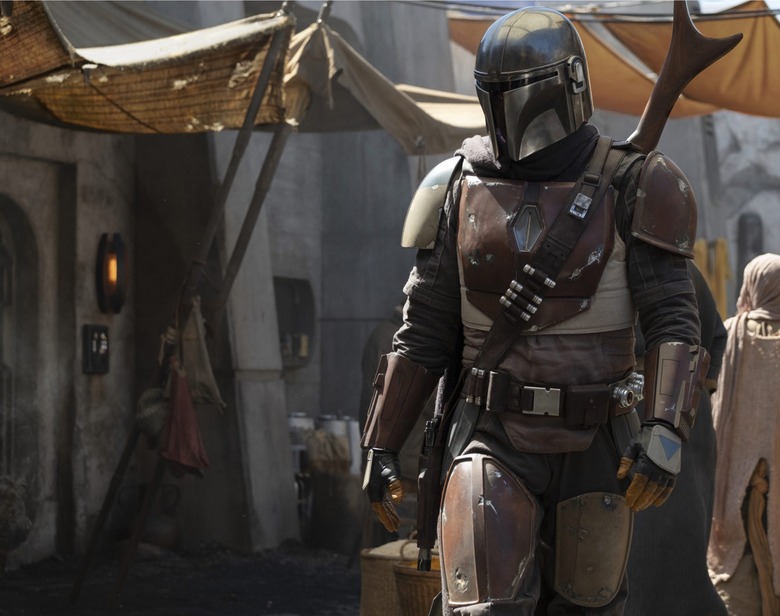 Production on the Star Wars live-action television series has officially begun and we have our first look at Jon Favreau's The Mandalorian, which is being produced for Disney's upcoming streaming service. Hit the jump to learn more about The Mandalorian.
Lucasfilm and Disney have officially announced the start of production on The Mandalorian, releasing the above image of the titular hero. They also released the following press release:
Production on the first Star Wars live-action streaming series has begun! After the stories of Jango and Boba Fett, another warrior emerges in the Star Wars universe. The Mandalorian is set after the fall of the Empire and before the emergence of the First Order. We follow the travails of a lone gunfighter in the outer reaches of the galaxy far from the authority of the New Republic. The series will be written and executive produced by Emmy-nominated producer and actor Jon Favreau, as previously announced, with Dave Filoni (Star Wars: The Clone Wars, Star Wars Rebels) directing the first episode. Additional episodic directors include Deborah Chow (Jessica Jones), Rick Famuyiwa (Dope), Bryce Dallas Howard (Solemates), and Taika Waititi (Thor: Ragnarok). It will be executive produced by Jon Favreau, Dave Filoni, Kathleen Kennedy, and Colin Wilson. Karen Gilchrist will serve as co-executive producer.
The image of the Mandalorian looks very much like a cross of Jango and Boba Fett, with a metallic helmet and a more battle-worn western styled outfit. What do you think?
Thor: Ragnarok filmmaker Taika Waititi, Bryce Dallas Howard, Deborah Chow and Dave Filoni are among the filmmakers that will direct The Mandalorian, the first Star Wars live-action series. Making Star Wars' Jason Ward appeared on our Emergency Podcast yesterday and revealed he heard Taika Waititi would be involved, so you heard it here first! These names are very promising, let's walk through them one by one:
Taika Waititi has been an indie film darling for many years now. I fell in love with him with Eagle vs. Shark and even have a quote on the cover of the DVD/Blu-ray release. He developed a big following in the last few years with his mockumentary What We Do In The Shadows and dramedy Hunt for the Wilderpeople. Most Marvel fans have known him as the filmmaker behind Thor: Ragnarok. His quirky humor will be an interesting mix for the Star Wars universe.
Bryce Dallas Howard: She is, of course, the daughter of Ron Howard, who has worked closely with Star Wars creator George Lucas and even directed Solo: A Star Wars Story. Howard has made a huge name for herself in front of the camera over the last decade and a half, but she has had aspirations to move behind the camera like her father. She has directed four short films which have played film festivals and has been developing feature projects. She directed the Lucy segment of the tv movie Call Me Crazy: A Five Film and did an episode of Vanity Fair: Decades.
Deborah Chow: Her 2010 feature directorial debut The High Cost of Living won the  Best Canadian First Feature Film at the Toronto International Film Festival. She's directed a lot of television, including episodes of Iron Fist, Fear The Walking Dead, Jessica Jones, Lost in Space, Snowfall, Better Call Saul and The Man in High Castle. Her episode of Better Call Saul titled Something Stupid premiered a couple weeks back was very good.
Dave Filoni: The Clone Wars and Star Wars Rebels showrunner has proven himself to be a master storyteller within the Star Wars animated universe. He shadowed director Rian Johnson on the set of The Last Jedi and will be making his live-action directorial debut on this show and anyone who has watched Clone Wars or Rebels is very very excited right about now. It was previously rumored that he will direct two of eight or ten episodes. Filoni will reportedly direct the first episode.
Rick Famuyiwa: My favorite film of the 2015 Sundance Film Festival was a movie titled Dope from Famuyiwa. I'm so excited to see what he can do in a galaxy far far away.
I'm happy to see Filoni on this list, and Watiti is a very interesting inclusion indeed. I'm glad Kathleen Kennedy is finally listening to the criticism from fans, bringing some female directing talent into this galaxy. I really enjoyed Chow's episode of Better Call Saul and I was impressed with her explanation of craft on the show's official podcast. I hate to admit that I haven't seen any of Howard's short films, but I'm going to use this as an excuse to correct that. She's a very talented woman and she's practically in the Star Wars family already. And it's great to see the diversity in the selection of these filmmakers. A great line-up indeed.
Yesterday, show creator and producer Jon Favreau revealed The Mandalorian title in the following image posted to Instagram: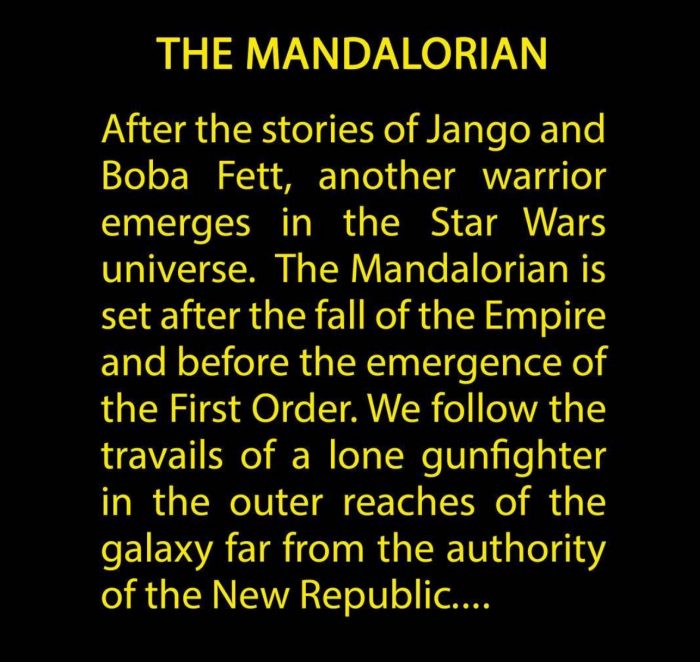 This confirms earlier rumors from Making Star Wars that the show would be set on the Outer Rim planet of Mandalore. We have also heard that the show will either be eight or ten episodes, costing an estimated$100 million, which places it near the top of the list of the most expensive shows in history. The six episodes in Game of Thrones' upcoming final season are said to cost around $15 million each. Recently the same source heard rumblings that Star Wars Rebels creator/showrunner Dave Filloni might be directing two of the episodes.
Favreau previously told NYT that "Star Wars is a big world, and Disney's new streaming service affords a wonderful opportunity to tell stories that stretch out over multiple chapters."
Mandalore has a very complicated history. The Star Wars wiki says that a huge Mandalorian War began in 3976 BBY (before the Battle of Yavin) and lasted for nearly twenty years. The machinations of the war itself are relatively complex, but in short, it involved characters like Mandalore The Ultimate, a rampaging conquerer, and Revan, a warrior who first appeared in the 2003 video game Knights of the Old Republic, which was also set around that same time.
As for who will be featured in this new television series, we don't know, although rumors recently have involved everyone from Pedro Pascal to Werner Herzog. Setting the show in the time between the original and sequel trilogies allows Favreau to construct a story about this planet and people not yet touched upon in Star Wars canon. I'm very excited to see what this show is.
Bob Iger first announced the series back in February, revealing that Disney "are developing not just one, but a few Star Wars series specifically for the Disney direct to consumer app." The codename for the live-action Star Wars series is Project Huckleberry, and the show has recently started production in Southern California with exterior shooting on a big desert marketplace set (set videos can be found elsewhere online).