Cool Stuff: Mark Englert's New Millennium Falcon Print Spans The Whole 'Star Wars' Trilogy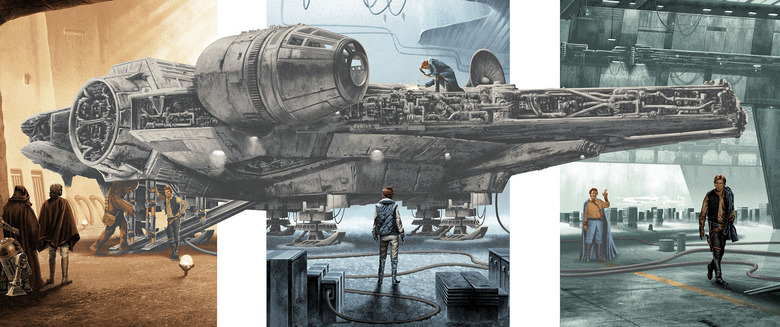 You can never have too much artwork celebrating the things you love. At least that's what you have to keep telling yourself every time a great new poster comes along that pays tribute to your favorite films and TV shows. And in this case, a new print from Mark Englert honors three movies using a single iconic element from all of them.
Bottleneck Gallery and Acme Archives are teaming up for this incredible Star Wars print from Mark Englert that uses the Millennium Falcon as the centerpiece to celebrate A New Hope, The Empire Strikes Back and Return of the Jedi. The piece is appropriately called "She's Got It Where It Counts," and you fan find out when and where to buy it below.
Mark Englert Millennium Falcon Print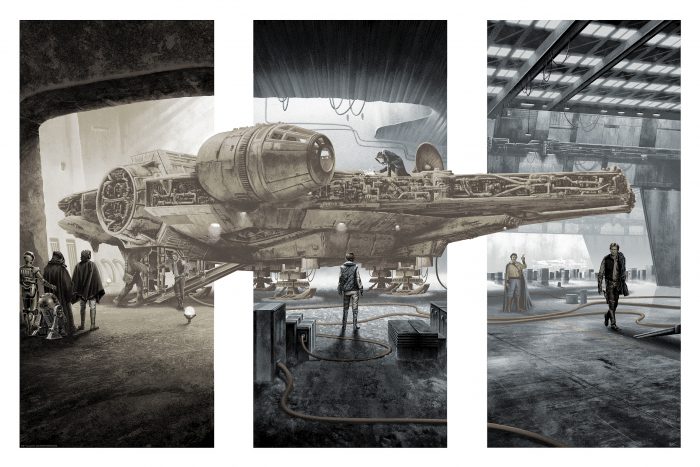 As you can see, the Millenium Falcon sits in the center of the overall image while there are three separate sections on the print representing each of the chapters in the original Star Wars trilogy, each featuring a different version of Han Solo in a scene from the movie.
I like how Mark Englert made clear separations between the scenes instead of having them run together, but he connected them through one single illustration of the Millennium Falcon. The colors used to represent each of the movies are a nice touch too, even if they're much more muted in the variant edition on the bottom.
You can pick up the Mark Englert Millennium Falcon print starting at 12pm ET on Thursday, and it will remain on sale until 11:59pm ET on Sunday October 7. This is a timed edition, so however many are purchased during that window for $65, that's how many will be made. Otherwise, that variant edition will be available at New York Comic-Con with an edition of 250, and it will cost you $75.