'Annabelle 3' Lands 'Jumanji' Co-Star Madison Iseman As An Unlucky Babysitter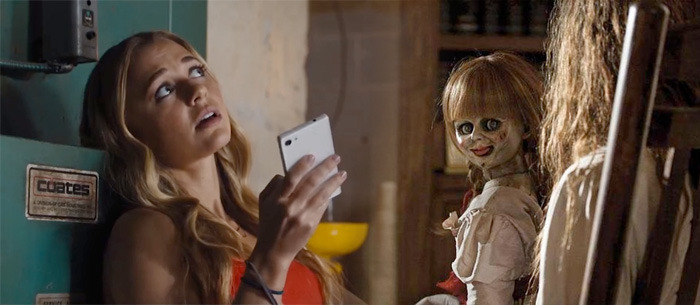 Even though The Nun didn't receive the greatest reviews last month, the box office performance showed that The Conjuring universe is still a big draw for audiences. Now, the earliest spin-off from the horror franchise is gearing up to start production on another sequel soon.
The third, untitled installment of the Annabelle franchise was first announced over the summer with franchise writer Gary Dauberman slated to make his directorial debut on the sequel. Now Jumanji: Welcome to the Jungle star Madison Iseman has been announced to take the lead role in the Annabelle 3 cast.
The Hollywood Reporter has word that Madison Iseman has joined the sequel, which will find the titular demonic doll returning for another round of terror. This time, the possessed doll will be giving hell to the Warren family after paranormal investigators Ed and Lorraine Warren place the demonic item in their Artifacts Room, thinking they can keep the dark forces inside of it at bay. Of course, they're wrong.
Annabelle will terrorize Ed and Lorraine Warren's daughter Judy, who will be played by young Gifted star McKenna Grace. But she won't be the only one targeted by the doll. Her babysitter, played by Iseman, will also have to confront this evil force. In fact, they'll have to contend with even more evil, because Annabelle's presence apparently brings the horrors of the Artifacts Room to life. Presumably this all happens while Ed and Lorraine Warren are away on some kind of investigation, because otherwise they'd stop it themselves.
There's no word on whether Patrick Wilson and Vera Farmiga will reprise their roles as Ed and Lorraine, but I wouldn't be surprised if they appeared in the beginning and at the end, just as they've done in the previous Annabelle installments.
Considering Annabelle: Creation was a vast improvement over the first installment, hopefully this sequel continues the trend and ramps up the scares and quality considerably. With Gary Dauberman directing his first feature, that's not a guarantee, but he clearly knows his way around Annabelle after writing the first two movies. Stay tuned as more details surface about Annabelle 3.