Lady Gaga Fans Are Trying To Sabotage 'Venom' Online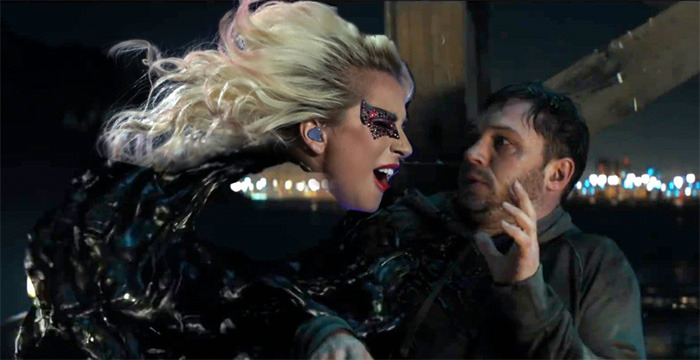 While the early buzz from critics on Venom might be enough to keep some general audiences from heading out to see the Spider-Man spin-off this weekend, Lady Gaga fans are reportedly taking things into their own hands in an attempt to ensure the Marvel Comics movie doesn't beat A Star is Born at the box office.
In what appears to be a somewhat coordinated effort by Lady Gaga fans, there are a number of tweets sharing similar traits and negative takes on Venom that are encouraging viewers and their families to see A Star Is Born instead.
BuzzFeed called our attention to the stream of Lady Gaga fans apparently trying to hurt Venom's chances at the box office:
Beware of fake #Venom movie reviews. There are people trying to promote Lady Gaga's #AStarIsBorn and are fabricating negative reviews. Look out for bots and only trust proper and regular reviewers. pic.twitter.com/v9xznuN5R7

— thatmaniac 🕷️🕸️ (@That1Maniac) October 2, 2018
How were they able to determine that Lady Gaga fans might be behind this campaign? Well, first of all, the pop star's "Little Monsters" have joined forces online before. Supposedly, Lady Gaga fans were responsible for pushing recording artist Ed Sheeran off Twitter, and they've often participated in coordinated efforts against Beyoncé fans and anyone who has anything to say about Lady Gaga that isn't complimentary. We're expecting the /Film Twitter to be overrun with Little Monsters as soon as we run this story.
One of the common traits of Lady Gaga fans stirring up trouble on Twitter involves fake accounts appearing to be average Midwestern moms. And it just so happens there are tweets like this out there:
Apparently, there are many more accounts like this bashing Venom and trying to convince people to see A Star is Born instead. However, Venom fans aren't taking this lying down, and they're starting to parody these tweets with reactions of their own.
At the very least, this is much more exciting than the usual arguments between Marvel and DC fans that tend to pop up on Twitter at times like this. But since Venom isn't really in the Marvel Cinematic Universe (at least not yet), the arguments probably won't be quite as heated as they normally are. But it should be noted that Lady Gaga herself doesn't support these antics by her fans and has tried to reel them in when they've gotten out of control.
Honestly, regardless of what fans are doing, you should see both of these movies for yourself this weekend. Sure, the Venom reactions may not be nearly as good as A Star Is Born (which is, by all accounts, a very good movie and doesn't need this kind of trolling to succeed).
Venom and A Star is Born both hit theaters on October 5, 2018, with sneak preview screenings on Thursday night.