Small-Screen Stream: 'Pushing Daisies' Comes To Amazon, Netflix Gets Trippy With 'Maniac,' And More TV To Stream This Week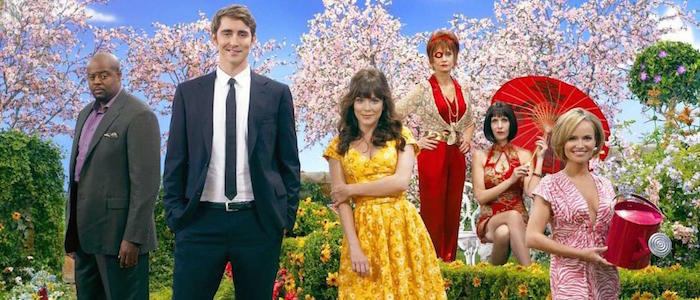 (Welcome to Small-Screen Stream, a feature where we share the best television shows streaming and where you can watch them.)
October is here, and I'm resisting the urge to make a horror-only list as best I know how. I plan to dedicate my next entry entirely to the spooky season, but before doing so, I wanted to shed some light on other, less-scary shows. Plenty was recently added to our favorite streaming services, making it deceptively easy to write up a compilation this week. Please enjoy this mix of new additions, old gems, and a few things I probably shouldn't have discovered on my Hulu playlist. I'll see you back here next time with all of the scary stuff you could possibly imagine!
Pushing Daisies, Seasons 1-2
Where To Watch: Amazon Prime
Created By: Bryan Fuller
Starring: Lee Pace, Anna Friel, Chi McBride, Krisin Chenoweth
After years of lamenting, the streaming gods finally answered our prayers on October 1st, when Pushing Daisies arrived on Amazon Prime. Bryan Fuller's lush, beautiful show is a bizarre one to explain. Lee Pace plays Ned, a pie-maker with the ability to reanimate the dead by touching them, and put them back to rest by touching them again. But if he doesn't return them to the dead after one minute, another person in his vicinity will drop dead. In the pilot, he resurrects his childhood sweetheart Chuck (Anna Friel), but can't bring himself to kill her again, and so blossoms a sweet relationship between two people who can never touch. Ned's gift also leads to a side hustle, where he helps solve crimes, and each episode is about solving some new murder mystery. The series is beloved for its quirky characters and enchanting premise, but also for its lush, technicolor visuals and tender score. It's a blessing to have it back on our streaming screens, even though it was prematurely canceled and thus only made it to season two.
Maniac, Season 1
Where To Watch: Netflix
Created By: Patrick Somerville
Starring: Emma Stone, Jonah Hill, Justin Theroux, Sonoya Mizuno, Sally Field
Maniac doesn't necessarily need my promotion, as its one of the more major television events of the year. Recent Oscar-winner Emma Stone and two-time nominee Jonah Hill star as two strangers who join a pharmaceutical trial to tend to their individual mental illnesses. The two start the trial, but are flagged after they respond in odd ways, and what follows is a series of hallucinations and dream sequences that inquire about deeper truths, like human connection and possibility. Everyone is excellent here, but the standout is Cary Joji Fukunaga, who directed every episode and who lends his unique visual style to a less ordinary story. At times, Maniac feels maddeningly like Eternal Sunshine of the Spotless Mind or FX's Legion, but with time you'll notice its own unique DNA.
Spaced, Seasons 1-2
Where To Watch: Amazon Prime
Created By: Simon Pegg, Jessica Stevenson
Starring: Simon Pegg, Jessica Stevenson, Nick Frost Mark Heap
I'm not sure if it was recently added or if I'd somehow failed to notice that Spaced was on Amazon Prime, but I was thrilled to see it on my feed earlier this week, and dipped back into certain episodes that I've loved forever. The show is about two London residents, Tim (Simon Pegg) and Daisy (Jessica Stevenson), who decide to pose as a couple so they can obtain cheaper rent. The series follows their rambunctious lives post move-in. It's equal parts surreal and heartwarming, and though – like Pushing Daisies – it only lasted two seasons, they are seasons so familiar and wonderful that you almost don't mind you didn't get more. These are characters who are alive to me, and it launched the career of Pegg.
Hey Arnold, Seasons 1-5
Where To Watch: Hulu
Created By: Craig Bartlett
Hulu has a great offering of '90s Nick Toons, but I was the most excited to find Hey Arnold on the list. Other cartoons from my past have failed to live up to adult standards, but Hey Arnold is different. The show is a beautiful portrait of diverse inner-city life for middle schoolers, and has a bevy of episodes I still haven't been able to shake, some 20 years after I've first seen them. It's a coming of age movie disguised as a Nickelodeon cartoon series, one that anyone might watch and feel pangs for. If you, like me, were a Helga, her narrative is harrowing even still. It's a joy to rediscover this seminal series.
Growing Pains, Seasons 1-7
Where To Watch: Amazon Prime
Created By: Neal Marlens
Starring: Alan Thicke, Joanna Kerns, Kirk Cameron, Tracey Gold, Jeremy Miller
Speaking of seminal series, I was obsessed with Growing Pains as a kid, and was thrilled to see that Amazon Prime recently added it to its roster. There are layers of melancholy that come with watching the show in the 21st century. Namely, the death of Alan Thicke, which lends a sadness to the Seaver family scenes. Also, the total radicalization of star Kirk Cameron, who descended into extreme Christian madness as the series progressed. You can see the repercussions of that in real time, as Mike Seaver goes from adolescent bad boy to something more wholesome, but it doesn't detract from the joys of this family comedy. The Seaver house is as familiar to me as my own, and the intro music still tugs at my heartstrings.
Hemlock Grove, Seasons 1-3
Where To Watch: Netflix
Created By: Brian McGreevy
Starring: Famke Janssen, Bill Skarsgård, Landon Liboiton, Penelope Mitchell
I will fully admit I only checked this series out because I developed a crush on Bill Skarsgård after Castle Rock and needed a new obsession outlet. Hemlock Grove isn't exactly a great show, but it's schlocky and fun in ways I enjoy more than I care to admit, and I figured it was worth a shot to include it for my fellow Skarsgård aficionados. The show is set in the fictional Pennsylvania town of Hemlock Grove, and grapples with local class and culture issues. There are werewolves, rich and degrading families, and a biomedical institute hiding secrets. If it hadn't premiered on Netlifx, it would have been a CW show, so adjust your expectations accordingly before diving in. If you, like me, enjoy that sort of high wire camp act, you'll enjoy the delicious pleasantries of Hemlock Grove the same way I did.
UnREAL, Seasons 1-4
Where To Watch: Hulu
Created By: Marti Noxon, Sarah Gertrude Shapiro
Starring: Shiri Appleby, Constance Zimmer, Craig Bierko, Freddie Stroma
I am tardy to the UnREAL party and I'm ashamed. This show is legitimately fantastic and right up my alley. It follows the producer of a Bachelor-esque dating show, played by Shiri Appleby, who after a recent mental breakdown returns to the show determined to make a new name for herself. The series follows her attempts at a new personal reality, while she manipulates the reality TV show that spirals in her wake. Appleby has long been a favorite of mine, but she truly shines here, as a mentally ill woman who's just trying to do her best – like we all are. The show recently moved to Hulu after it was canceled by Lifetime, and completed its fourth and final season. It's well worth the watch.
A Series of Unfortunate Events, Seasons 1-2
Where To Watch: Netflix
Created By: Lemony Snicket, Mark Hudis, Barry Sonnenfeld
Starring: Neil Patrick Harris, Patrick Warburton, Malina Weissman, Louis Hynes
I recently had to watch A Series of Unfortunate Events for a work assignment, which I begrudgingly accepted. What I never expected was that I would fall in love with this weird little show about weird little people. I should have known after seeing the name "Barry Sonnenfeld" in the credits; he directed some of my favorite weird '90s movies, like The Addams Family series and Men in Black. A Series of Unfortunate Events feels like a spiritual sister to those projects, following the Baudelaire family after the deaths of their parents. They are pursued by a zealous relative, Count Olaf (Neil Patrick Harris), who's after their wealth, and their journeys take them to every chapter of Lemony Snicket's book series. It's a fun, quirky show deserved of Sonnenfeld's mastery.
Married At First Sight, Seasons 1-6
Where To Watch: Hulu
I'll save the horror stuff for later in October (I don't want to saturate every list this month with spooky fare) but I can tell you right now that I've never seen a scarier show than Married At First Sight. The premise is exactly what it sounds like: two people who have never met before get married without even seeing the other person's face. The results are chaotic in all of the ways you might expect. Clashing ideologies, physical disconnection, a difference of politics and lifestyle. I have no idea what kind of monster might have conceived of something so rotten – in fact, even some deep Googling didn't yield any "created by" results – but whoever they are, I blame them for sucking me into this mess year after year.