'Venom' Early Buzz: Tom Hardy Gives A Fascinating, Bizarre Performance That Will Make Or Break The Movie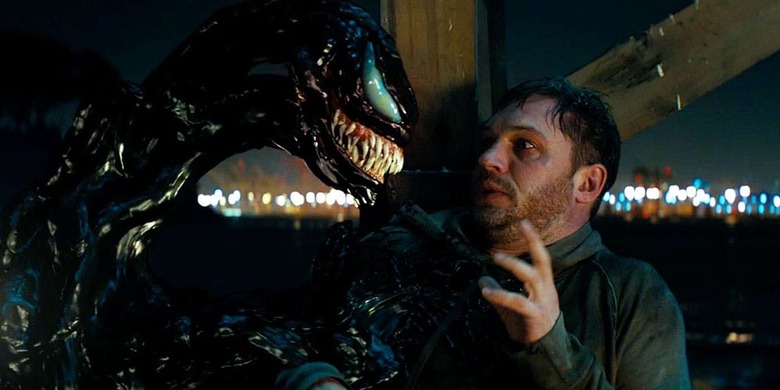 You've been patient, and finally the time has come. The first reactions to this week's release of Venom have arrived, and they certainly pack a punch.
The anticipation for Venom has been lukewarm, mostly because the trailers painted quite an odd movie that felt like it came out of a time capsule that was lost in 2004. Well, it sounds like that's exactly what the movie delivers, complete with a bizarre and fascinating performance from Tom Hardy that makes the movie surprisingly funny, intentional or not.
First up, let's look at some of the more positive reactions for Venom:
#Venom is like a buddy comedy in which one of the buddies has to prevent the other from biting people's heads off, which is another way of saying I liked it.

— Michael Nordine (@slowbeard) October 2, 2018
#Venom really is a period piece from the early days of Super Hero films, and it's clear they were aiming for this. I feel bad for anyone that uses this as a negative point because they're too used to the same flavor of hero movies we have form the MCU and DCEU now.

— BIZ@rnage (@Bizarnage) October 2, 2018
So #Venom.

I went in fearing the worst, BUT I actually liked it quite a bit more than I thought I would. I still wish it was rated R, but it seems like they set up something to cross over into Spider-Man's movies, and it was funnier than I imagined.

— .ashley. ✨🎙 (@AshleyEsqueda) October 2, 2018
I think the "kind of horrifying, weird buddy comedy" thing was both campy and enjoyable tbh

I dunno it just felt like fun and sometimes I want a fun action movie – after the solemness of Infinity War this was a neat romp~

— .ashley. ✨🎙 (@AshleyEsqueda) October 2, 2018
#Venom wasn't as bad as everyone was saying it was going to be. Tom Hardy is and always will be a great actor, and I laughed a lot — but I'm not sure whether that was intentional or not. Post-credit scene is 🔥

— Beatrice Verhoeven (@bverhoev) October 2, 2018
Significant chunks of #Venom don't work *at all* but there is some serious charm to the Eddie/Venom relationship. Not sure I had the intended reactions to some scenes but fun is fun – even when it's totally ridiculous, right? It's too bad they didn't go for the R rating though.

— Perri Nemiroff (@PNemiroff) October 2, 2018
I'm *fascinated* with VENOM. The cast seems to all know they're in a darker superhero movie, except Tom Hardy who is basically remaking Jim Carrey's Liar Liar. I kinda loved watching this movie, in a Rocky Horror type of way. At one point Tom Hardy and Venom make out.

— Mike Ryan (@mikeryan) October 2, 2018
#Venom was surprisingly funny! I had a freaking great time watching it. Despite some problems, it did right by its main character, Eddie Brock/Venom. People forget that he's always had a weird sense of humor in the comics, and that humor is fully on display in the movie! pic.twitter.com/20ufNrbGU4

— Hector Navarro (@Hectorisfunny) October 2, 2018
Tom Hardy's performance in #Venom is either Johnny Depp in the first PIRATES OF THE CARIBBEAN or Chris Klein in STREET FIGHTER: THE LEGEND OF CHUN-LI. Either way, it's not boring.

— Scott Mendelson (@ScottMendelson) October 2, 2018
Not sure if Tom Hardy's weirdness sabotaged #Venom or saved it, but it has a self-aware cartoonishness, especially in its latter half. It's not "good," but it's better than expected. Doesn't feel like an R-rated film, am guessing the deleted 40min is just Hardy clowning around.

— Scott Mendelson (@ScottMendelson) October 2, 2018
Comic fans will like #Venom, as it pulls directly from the comics in many places. Tater tot fans will also like Venom. It's certainly clunky & not as fluid as some recent Marvel movies, but it's funny, intentional or not. Don't take it too seriously, and stay through the credits pic.twitter.com/Llzvtv0fLL

— Erik Davis (@ErikDavis) October 2, 2018
Tom Hardy as Eddie Brock and #Venom has some really entertaining moments. A clunky script without nuance bogs the #Venom down, preventing it from choosing between being gritty, funny, or something unique.

— BD (@BrandonDavisBD) October 2, 2018
As you can see, even some of these positive reactions note the film's shortcomings, which include a clunky story. Plus, there seems to be some uncertainty as to whether the film is meant to be as funny as it comes off, which doesn't sound promising. At the same time, many of these reactions seem to come away at least entertained, even if it's not because this comic book movie is of the highest quality.
However, on the complete opposite end of the spectrum are some people who were really down on the movie:
#Venom is Catwoman level bad, with Tom Hardy's worst performance since This Means War.
DON'T SEE THE MOVIE!

— Daniel Richtman #BlackLivesMatter (@DanielRPK) October 2, 2018
Like a turd.

In the wind.#Venom

— ManaByte (@ManaByte) October 2, 2018
Sorry to say that #Venom is pretty much a complete failure – a tonal mess that feels 15 years old, ignoring the storytelling strides that the superhero genre has made in recent years.

A few fun Venom-centric moments aside, it has nearly nothing to offer. Don't get your hopes up.

— Tom Jorgensen (@Tom_Jorgensen) October 2, 2018
As you can see, some of the elements in Venom that people found entertaining, even if accidentally so, didn't land in the same way for these folks. Part of me wonders if that's going to be how general audiences react, or if they'll buy into what Tom Hardy and Venom are selling.
Whether this is an intentionally funny throwback to the superhero movies of the early 2000s will be for audiences to decide. Either way, it sounds like there will be some fun to be had with Venom, even if it's laughing at the movie for the wrong reasons.