Cool Stuff: Massive Robin Williams Box Set Spans 22 DVDs With Over 50 Hours Of Footage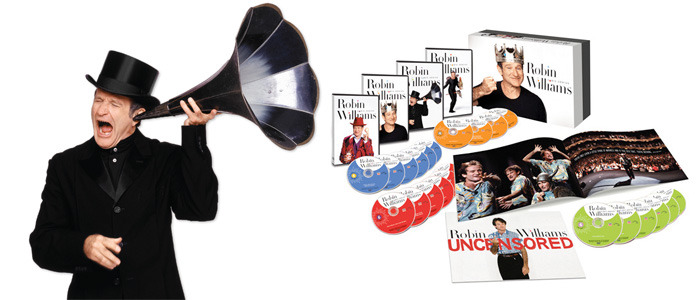 It's hard to believe, but it's been over four years since Robin Williams left us. Thankfully, the comedian left behind some incredible film, television and stand-up performances for fans to enjoy for years to come. However, there's plenty of footage of Robin Williams at his most hilarious and off the leash that isn't easily available. But a new Robin Williams box set collects almost everything you could ever want.
Robin Williams: Comic Genius, a box set from TIME LIFE, collects over 100 performances and appearances from the comedian in a 22-DVD collection. The set includes all of the Robin Williams stand-up specials, including some never-before-seen shows, tons of late night talk show appearances and other interviews, USO shows, the recently release HBO documentary Robin Williams: Come Inside My Mind and so much more.
Robin Williams Box Set Trailer
Here's a taste of the comprehensive material you'll find in this box set coming in November:
All five HBO stand-up specials together for the very first time, including Off the Wall (1978), An Evening with Robin Williams (1983), An Evening at the MET (1986), Live on Broadway (2002) and Weapons of Self Destruction (2009)
Never-before-released shows, including Robin's full MGM Grand Garden stand-up from 2007 and the Montreal stop on his last tour in 2012, a conversation on stage between Williams and comedian David Steinberg
Robin's best

 

talk show and late-night TV appearances on The Tonight Show starring Johnny Carson, The Tonight Show with Jay Leno, The Oprah Winfrey Show, The Graham Norton Show, Saturday Night Live and more
Rare, never-before-seen clips including early stand-up, raw footage from HBO's promo shoots, a hilarious toast to Richard Pryor by Robin as Mrs. Doubtfire, and more
Brand new interviews with close friends and family including Billy Crystal, Steve Martin, Jay Leno, Eric Idle, David Steinberg, Lewis Black and Zak Williams
11 hilarious episodes of Mork & Mindy, including the two-part pilot!
James Lipton's Emmy® Award-nominated 90-minute interview with Robin on Inside the Actors Studio, plus deleted scenes
A comprehensive collection of Robin's USO shows around the world
Hours of bonus features including behind-the-scenes footage, local highlights from tour stops, promos and more. Featurettes include: The Early Years, San Francisco: Where It All Started, Comic Genius, and TV's Best Guest
Critically acclaimed 2018 HBO documentary, Robin Williams: Come Inside My Mind from Emmy® Award-winning director Marina Zenovich

 

and Oscar-winning producer Alex Gibney.
"Robin Williams: Uncensored," a collectible 24-page, full-color memory book featuring rare, archival photos from award-winning photographer Arthur Grace, reminiscences from friends and colleagues, Robin's personal tour notes and more.
All housed in a deluxe collector's box!
This is an incredible collection of material for even the most hardcore Robin Williams fan who thinks they might have seen everything the comedian had to offer. It's a comedy nerd's dream, and I can't wait to dig into it and watch everything.
Robin Williams: Comic Genius is available for pre-order now at TIME LIFE and will ship the week of November 5.