'Venom' Cut Out Tom Hardy's Favorite Scenes In The Movie, Which Was Mostly Fun Improvisation [UPDATED]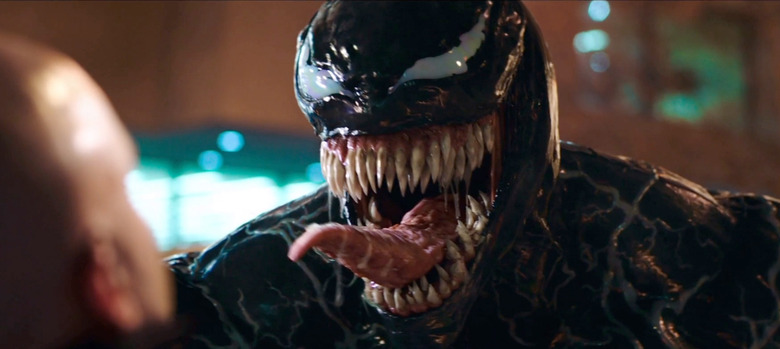 This week brings Venom to theaters, and fans will finally get to see if Sony Pictures can pull of a movie featuring a prominent Spider-Man villain without including the webslinger himself as a major character. Tom Hardy takes the lead role as Eddie Brock, an intrepid reporter who ends up infected with a dangerous and deadly symbiote that turns him into a Dr. Jekyll and Mr. Hyde type of personality who is hungry for flesh and keeps getting him into dangerous situations. Can an eclectic actor like Tom Hardy make this work?
That's the question everyone is wondering, and if we're to believe Tom Hardy, the answer might be no. In a recent interview, Tom Hardy was asked what his favorite scene to film was, and he surprisingly answered: "There's scenes that aren't in this movie." Well, that's not a very good sign. Find out more about the Venom deleted scenes below.
Here's the interview in question from ComicsExplained with the relevant part coming in at the 4:40 mark:
Continuing his answer, Tom Hardy said, "There are like 30 to 40 minutes worth of scenes that aren't in this movie... all of them. Mad puppeteering scenes, dark comedy scenes. You know what I mean? They just never made it in." Now, it should be noted that there's a slight chance that Hardy could be joking around a bit.
After this answer, Riz Ahmed starts to rib him about those scenes not being in the movie, adding that "they probably weren't any good." And then Tom Hardy seems to make a reference to the "Sounds of Silence" meme featuring a sad-looking Ben Affleck during a Batman v Superman interview. So it's possible that this is just a dry bit that Hardy is putting on.
However, at the same time, Venom was a movie that was meant to be R-rated. All throughout production there was talk about how the goal was to make an R-rated sci-fi movie. Even at the San Diego Comic-Con this past July, director Ruben Fleischer was touting the high level of violence and the hope that the movie would reach an R-rating. The filmmaker told ComicBook.com at the time:
"That's the plan. It is not the plan, that's the movie. Our movie wants to honor the comics as close as we can tonally. In the comics, he bites people's heads off and eats brains. It would be weird to make a movie with Venom if he wasn't doing that. We tried to honor it as closely as possible. This is definitely a darker, more violent, more vicious Marvel character than I think anyone's ever seen before."
What Happened to the R-Rated Movie?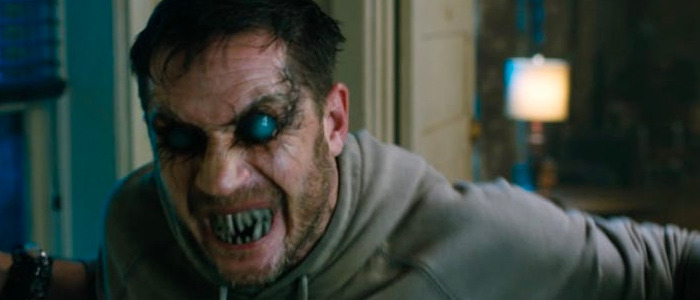 So what happened? More than likely, Sony Pictures realized that if they made this movie R-rated, they were going to miss out on a lot of box office money because of all the kids who wouldn't be able to see the long-tongue symbiote monster in theaters. That likely worried them quite a bit, since there hasn't been a particularly warm reception to Venom since the first teaser. So maybe they're just trying to salvage the movie so it doesn't lose a ton of money. As of two weeks ago, the movie was tracking an opening between $60 million and $70 million, so maybe given the movie a PG-13 rating was a good idea.
However, if you ask Ruben Fleischer along with producers Avi Arad and Matt Tolmach today, they're acting like they were never focused on an R-rating or the violence. Tolmach had this to say to ComicBook.com:
"There isn't some phantom version of the movie. Everyone is asking us that. Is there an R-rated cut sitting there? There isn't. We came into this production and the development of the movie wanting to make a movie that was true to Venom, true to the comics, and true to the character, but at the same time is a movie that 13-year-olds, 14-year-olds can see. We had to push right up against it. We're 15+ in England. It's not like we just wanted to make a family film. We wanted to push it as hard as we could, but also to make it accessible. That was always the goal."
Avi Arad echoed those sentiments as well, adding:
"To me, R is not a consideration...There's no reason to put in violence. To define what Venom is as violence. He's not. He's the lethal protector, which is a very different thing. We want to be really true to the comics. Today, in CGI and stuff, we can make Venom bite your head. But we don't have to show the head going side to side like, 'that actually tastes good.' It's irrelevant. What's relevant is that you finally understood, is that a bad guy? Yeah."
And finally, Fleischer backed all of that up too:
"We only ever talked about this movie as being PG-13.What I've said in the past is that we wanted to push the violence to the hilt. The Dark Knight was always a huge reference point for me, personally, just as far as how far you could take a PG-13 because that movie they put a pen through a guy's forehead so I figure if you can do that in a PG-13 movie you can bite some heads off."
There's a chance that they always intended to take the violence as far as they could without getting an R-rating. Or maybe they thought their violence would get them an R-rating and it didn't happen. At the same time, surely a director has to know what kind of violence will not land them an R-rating. So they probably didn't push the envelope too far. but we'll find out soon enough.
Venom hits theaters this week on October 5, 2018.
UPDATE: Tom Hardy spoke with IGN and clarified what he meant when he answered this question:
EXCLUSIVE: Tom Hardy clarifies his comments about the footage cut from Venom: "Everything I want is in it. And more." pic.twitter.com/IyOEo9oNmd

— IGN (@IGN) October 2, 2018
If you can't watch the video, Tom Hardy explains that he was allowed plenty of opportunity to improvise. So was given a lot of freedom to play around as Eddie Brock/Venom, but obviously not all of that can make it into the movie, mostly because it doesn't add much to the story. So "from an actor's point-of-view," he's bummed that some of his weirder stuff didn't make it into the film, but Tom Hardy says:
"Everything that we want is in the story. Everything that I want is in the story. And more."
This could easily be damage control from the publicist trying to keep the negative buzz down, but we'll give Tom Hardy the benefit of the doubt for the time being. So maybe there isn't an R-rated version of the movie after all. We'll find out for ourselves how it all turned out when Venom arrives this week on October 5, 2018.