'Holmes And Watson' Trailer: Will Ferrell & John C. Reilly Are The Iconic Detective Duo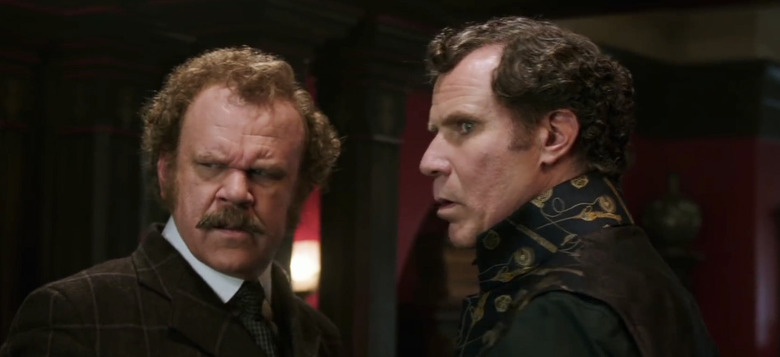 Will Ferrell and John C. Reilly have teamed up in Step Brothers and Talladega Nights: The Ballad of Ricky Bobby to riotous laughter. Can they do it all again as the most iconic detective duo of all time?Holmes and Watson finds Ferrell and Reilly playing Sherlock Holmes and Dr. John H. Watson in a comedic take on the literary pair created by Sir Arthur Conan Doyle.  The two are back to their goofy antics, this time all the over in jolly old England, and as you can imagine, things get a little out of hand.
The movie basically feels like a parody of the Sherlock Holmes franchise films starring Robert Downey Jr. and Jude Law, but not necessarily in the meta way that Mel Brooks likes to mock genre movies. There's even a moment where Holmes' signature deductive style plays out much in the same way it does in Guy Ritchie's movies, all so he can swat at a single bothersome insect. But because this is a goofy comedy, Holmes' calculations didn't take into account that he would break the glass encases a hive of bees.
Honestly, this doesn't feel like the kind of magic that Ferrell and Reilly captured in their aforementioned comedies. It almost feels too slapstick and silly, and it's likely not helped by the fact that this appears to be a PG-13 movie instead of the R-rated comedy that made Step Brother so hilarious. Then again, Talladega Nights didn't suffer much from being only PG-13 so maybe it won't be so disappointing. After all, it's not quite as bad as most of Adam Sandler's recent comedic entries, but it certainly feels uninspired.
There are moments of hope, though, especially when Watson is totally fooled by a simple mustache Holmes dons as a disguise. Only Reilly and Ferrell could make something that goofy work so well. We can also take solace in the fact that both Hugh Laurie and Steve Coogan have roles in the movie. Plus, Rebecca Hall and Lauren Lapkus make an appearance in the trailer as well. Hopefully, they won't be squandered.
Etan Coen is behind both the camera and the script for Holmes and Watson, which could go either way. While Coen did deliver the comedic wonder that was Tropic Thunder, he also wrote and directed the misfire that was Get Hard, which didn't utilize Will Ferrell and Kevin Hart very well. Sadly, for now, this feels to lean more towards the Get Hard kind of comedy, but maybe there's more than this trailer has to offer.
Holmes and Watson hits theaters on November 9, 2018.