Kathleen Kennedy Renews Lucasfilm Deal, Will Remain President For Three More Years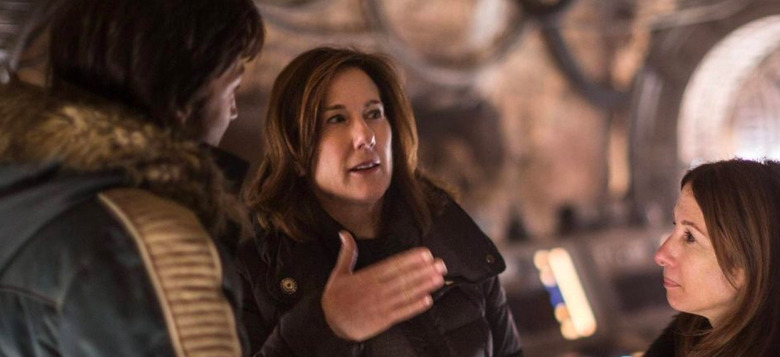 Never believe what you hear on YouTube. Despite swirling rumors in the wake of the box office disappointment of Solo: A Star Wars Story, Kathleen Kennedy has just re-upped her deal to remain President of Lucasfilm for at least three more years. Kennedy will remain in charge of all-things-Star Wars through 2021, and she will help expand the Star Wars galaxy into television.
The Hollywood Reporter broke the news that Kathleen Kennedy will continue to run Lucasfilm. After Solo: A Star Wars Story grossed $392 million, resulting in a $50 million to $80 million loss for Lucasfilm, speculation cropped up that Kennedy's days were numbered. Adding fuel to the fire was the minor but vocal backlash against Star Wars: The Last Jedi. But as THR states, "The move is a vote of confidence in Kennedy, who took command of Lucasfilm after Disney's $4 billion acquisition from George Lucas in 2012 and has overseen the relaunch of Star Wars."
While the majority of the other new Star Wars films have been box offices smashes, it hasn't all been smooth sailing. Both Rogue One: A Star Wars Story and Solo underwent major reshoots, with the Solo situation leading Kennedy to fire original directors Phil Lord and Chris Miller. But Kennedy's grasp on Lucasfilm remains intact, and will do so for t least the next three years.
Star Wars: Episode IX is currently filming, and is set to be the final chapter in the Skywalker Saga. From there, the world of Star Wars movies rests in the hands of projects being planned by Star Wars: The Last Jedi director Rian Johnson and Game of Thrones creators David Benioff and D.B. Weiss. But Star Wars isn't limited to the world of films. Kennedy and Lucasfilm are beginning to direct their Star Wars focus to the small screen, as well, particularly when it comes to Disney's upcoming streaming service, which may or may not be called Disney Play. From the THR story:
Sources say that the near future of Star Wars lies in television with Kennedy-led Lucasfilm planning on expanding the universe with new characters in that medium. The shows at this stage include a live-action series run by Jon Favreau (which is currently casting) and the animated Star Wars: The Clone Wars, both of which will air on Disney's untitled streaming service, which is set to launch in the second half of 2019. Meanwhile, another animated series, Star Wars Resistance, premieres this month on The Disney Channel.
Before Solo, Lucasfilm had been planning more Star Wars Anthology films, including an Obi-Wan Kenobi movie and a Boba Fett film. In the wake of Solo's box office, however, Kennedy and Lucasfilm are retooling their approach, and making a bigger commitment to television. Lucasfilm is also working on the upcoming Indiana Jones film as well, due out on July 9, 2021. Star Wars: Episode IX opens December 20, 2019.