'The Long Dumb Road' Trailer: Jason Mantzoukas And Tony Revolori Hit The Road, Probably Learn Lessons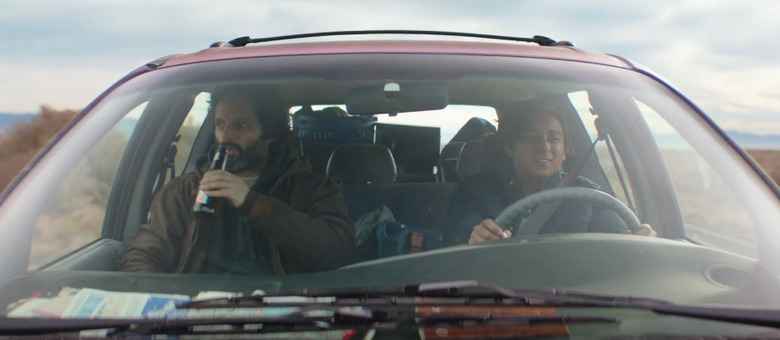 When it comes to indie movies, road trips are a dime a dozen, featuring characters who just need to get out on the road to learn the life lessons that will set them on the right path. This year, one of those movies is The Long Dumb Road starring Jason Mantzoukas and Tony Revolori, bringing a little diversity to the proceedings, but seemingly staying comfortably in the confines of generic coming of age comedy. You'll see what I mean in The Long Dumb Road trailer below.
Watch The Long Dumb Road Trailer
While Jason Mantzoukas and Tony Revolori seem like a great pair, the movie feels almost painfully generic. It's nice seeing a Greek guy and a young Guatemalan man take the lead in a movie like this instead of the usual interchangeable white actors, but there doesn't seem to be anything that makes the movie stand out. Plus, the trailer feels a little choppy in how it's edited.
Reviews out of The Long Dumb Road were middling, including one from Variety noting:
"The normcore-meets-nutcase road comedy is older than Route 66, and the film's destination could have been plotted by Google Maps, as well as the familiar screen sight of two men companionably peeing together in the wilderness."
It's a shame that writer/director Hannah Fidell seemingly couldn't make this standout from the usual road trip offerings, but maybe it'll be amusing enough for a watch at home, especially with a fantastic supporting cast that includes Taissa Farmiga, Grace Gummer, Casey Wilson, and Ron Livingston.
The Long Dumb Road hits select theaters on November 9, 2018 and then VOD on November 16, 2018.
Nat (Tony Revolori), an aspiring photographer, is heading towards a bright future in art school in Los Angeles and wants to find the real America en route to new beginnings out West; Richard (Jason Mantzoukas), a lovably unkempt motormouth, is simply looking for connection in the moment – and maybe a beer or ten – while he grapples with indecision, past mistakes and dead-ends. As they travel through the American Southwest, taking in picturesque towns and crossing paths with an assortment of old flames, fellow travelers, kooky cons, and Good Samaritans, both passengers come alive through the myriad possibilities of the open road. Finding connection, comfort and chaos in their shared journey, this improbable and unforgettable screen duo forges an epic bond few will forget.