'Star Wars Resistance' Extended Trailer Feels Like 'Top Gun' In A Galaxy Far, Far Away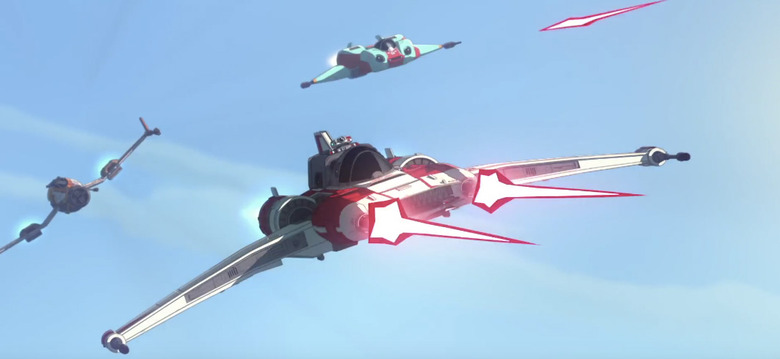 If you're not yet excited about the forthcoming animated series Star Wars Resistance, this latest trailer might do the trick.
Star Wars Resistance is an anime-inspired series from Star Wars Rebels executive producer Dave Filoni that focuses on an ace pilot team stationed on the space station Colossus. When they're not racing around the ocean, they're taking to the skies and space to battle the First Order, and a new trailer has plenty of starship action, as well as some appearances of familiar faces from Star Wars: The Force Awakens.
All of the aerial and space battle sequences in the first half of this trailer look fantastic. While the animation style still bugs me, the color palette for this show is bright and vibrant, especially when it comes to the design of the ships involved in the races. The same can be said for the pilots inside them.
Meanwhile, the second half gets into more of the traditional Star Wars battle of the Resistance versus the First Order. Poe Dameron (voiced by Oscar Isaac himself) is a consistent presence throughout, along with his droid pal BB-8. But this time General Leia Organa makes an appearance, and whoever is doing that voice has nailed a spot-on impression of Carrie Fisher as we heard her in The Force Awakens.
Meanwhile, on the First Order side we have Captain Phasma (voiced by Gwendoline Christie) creating some problems for the Resistance. However, there appears to be another gold chrome Stormtrooper making an appearance, so it'll be interesting to see who that is. On top of that, there's a TIE Fighter pilot who wears red gear and even has a red TIE Fighter. So that's something new.
If you want to know more about the characters and cast of this new animated series, check out the recently released featurette that dives into the ace pilot team at the center of the story. Otherwise, you can tune in when Star Wars Resistance comes to Disney Channel with a one-hour premiere at 10pm (ET/PT) on October 7, 2018.
Resistance fighter Poe Dameron tasks young pilot Kazuda "Kaz" Xiono with spying on the First Order. At the time, little was known about the secretive organization and its strength.
In order to fulfill his mission, Kaz travels to the space station Colossus, which is being used by many ships as a port to refuel and do repairs. However, there are also dangerous races taking place there. After Kaz bragged with his piloting skills at his arrival there, he is soon drawn into one of the races...