AMC's Best Christmas Ever Is Going To War With Freeform's 25 Days Of Christmas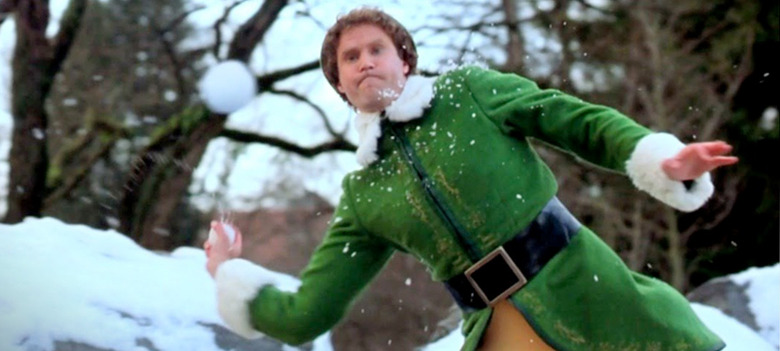 Sure, it's not even Halloween yet, but cable channels are already looking ahead in the calendar to get ready for Christmas, and AMC is looking to take on Freeform's popular and long-running 25 Days of Christmas slate of programming with a big holiday line-up of their own.
AMC has snagged the broadcast rights to three big holiday movies away from Freeform. The Warner Bros. Pictures titles Elf, National Lampoon's Christmas Vacation and The Polar Express will exclusively be available on AMC starting in November, and they're adding them to a huge roster of other holiday movies and TV specials under their new Best Christmas Ever programming line-up.
Though holiday movies have always played intermittently during the Christmas season on AMC, the cable channel has never put so much effort into having a publicized block of holiday programming like this. Tom Halleen, AMC's executive vice-president of programming and scheduling, says:
"We've always had a Christmas presence on the network. Miracle on 34th Street, White Christmas, Home Alone, Scrooged — they always performed extraordinarily well. But they were limited. Five, maybe six movies would be part of the schedule."
But this year, starting November 26, AMC will have a huge roster of holiday movies and TV specials (over 600 hours) that they will play right up through Christmas Day, creating some serious competition for Freeform's 25 Days of Christmas.
In addition to the aforementioned three holiday hits that got plenty of airtime every single Christmas on Freeform, AMC's multi-year agreement for new holiday programming also picked up 12 of the 18 classic stop-motion holiday specials from Rankin/Bass (though it's not clear if the most popular ones like Rudolph the Red-Nosed Reindeer and Santa Claus is Coming to Town are included). On the more contemporary side of holiday specials, they also picked up some of the DreamWorks Animation specials like Merry Madagascar and Donkey's Caroling Christmas-tacular.
But the real draw for AMC will be their line-up Christmas movies that they've been accrued over the years. Gremlins, Jingle All the Way, Planes Trains & Automobiles are just some of the titles that viewers will see on AMC this holiday season, not to mention Willy Wonka and the Chocolate Factory, which has become a Christmas staple for some reason.
Tom Halleen says he's wanted to bring a holiday slate like this to AMC for awhile now. "We had to find the opportunity in order to really bulk up the inventory. Most of the studios — you know, Warner Bros., Paramount, Sony, even [Freeform sibling] Buena Vista — they've all helped us build this over the course of many years." It should come as no surprise that Halleen pulled this off since he had a hand in building 25 Days of Christmas into what it became as an executive at The Family Channel, which became ABC Family and eventually Freeform.
This will undoubtedly be a blow to Freeform, which aired Elf and Christmas Vacation almost two dozen times each. Polar Express isn't quite as beloved, but it still played on the channel around a dozen times too. But Freeform still has a big catalog of holiday movies and specials as a Disney-owned company, so The Nightmare Before Christmas, The Santa Clause and more will keep them going strong.
Either way, it's clear there will be no shortage of holiday movies at both AMC and Freeform this season, but you'll just have to pay close attention when and where to catch your favorites. Of course, TBS still has the 24-hour marathon of A Christmas Story, so they still come out on top every Christmas in my book.