Theme Park Bits: Huge 'Toy Story' Land Domino Maze, Fantasyland Recreated In Home Basement, And More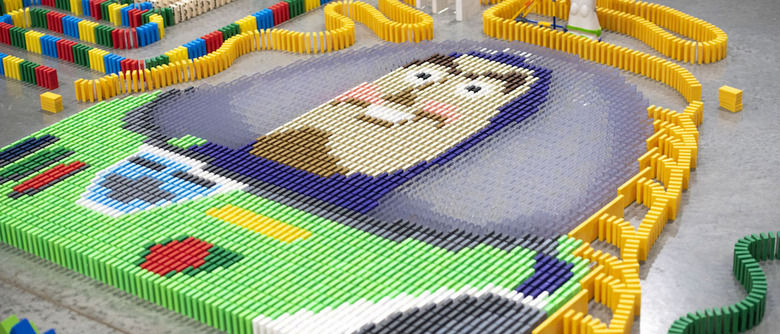 In this edition of Theme Park Bits:
Watch 32,000 dominos fall in an elaborate maze themed to Walt Disney World's Toy Story Land.
Say goodbye to Rafiki's Planet Watch and live actors in Rivers of Light at Disney's Animal Kingdom.
Who needs math? People calculating guest turnaround in the Millennium Falcon ride, that's who.
Disney World is about to implement a new ticket pricing plan based on the date of your park visit.
The award for "theme park fan of the week" goes to the guy recreating Fantasyland in his basement.
Guess which Florida theme park is rated number one for the fourth year in a row on TripAdvisor.
And more!
Here's something cool, via The Disney Blog. To celebrate the opening of Toy Story Land at Disney's Hollywood Studios this year, "Walt Disney World invited a domino chain-reaction maze artist to build a basketball court-sized colorful domino maze involving more than 30,000 intricately placed pieces and then knock it all down." Check it out in the video above, and if you missed it, be sure to check out our photo tour of Toy Story Land, as well.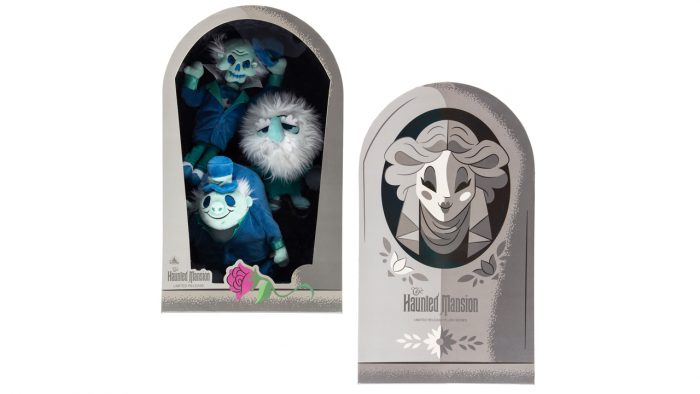 Walt Disney World Annual Passholders got first crack at some special Halloween goods this year in the inaugural "V.I.Passholder Pop-up Merchandise Event" at the Magic Kingdom. A limited-release Haunted Mansion Hitchhiking Ghost Plush Set, Dooney & Burke's Villain Ear Hat Collection, and some Tim Burton's The Nightmare Before Christmas merchandise all went on sale early at the Emporium gift shop. If you didn't get yours, not to worry: these items are now available to all park guests.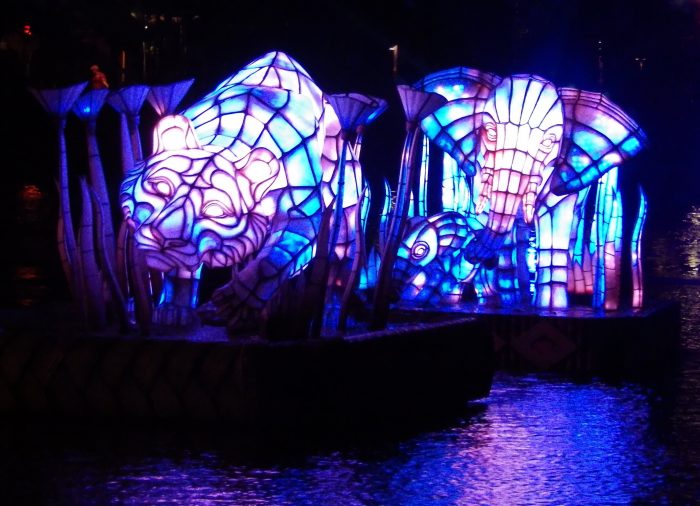 Disney's Animal Kingdom is making some cuts and closures, starting with live actors, who will no longer be appearing as shamans in the Rivers of Light show. This will certainly alter the dynamic of the show: Rivers of Light was never the liveliest nighttime spectacular, to begin with. When I saw the show last year, I thought the lantern barges during the Parade of Animal Spirits were beautiful, but other than that, I was mostly underwhelmed.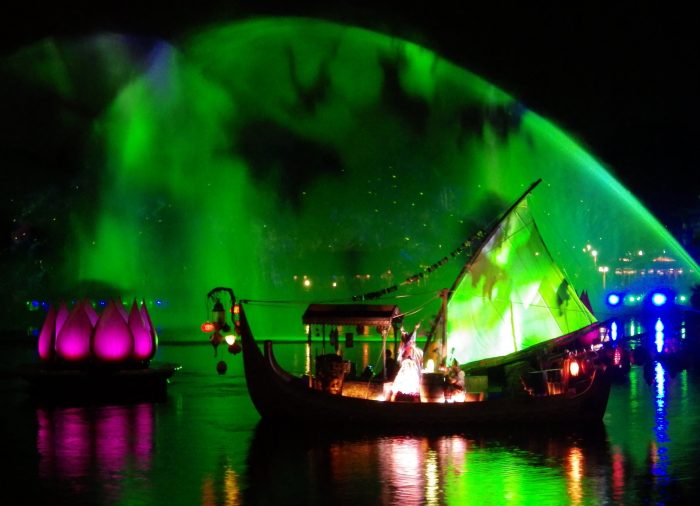 As Disney Tourist Blog points out, Rivers of Light is the kind of show where, "if anything, photos do it too much justice." One commenter over there dismissed it as, "just a bunch of floats squirting water into the air while changing colors," and while that sounds like a harsh assessment, he has a point. Now those floats will be bereft of humans, left to sail the lagoon empty while the sedate water effects of fountains and mist screens go off around them.
BREAKING: Rafiki's Planet Watch at Disney's Animal Kingdom to Close in Octoberhttps://t.co/FHopalAs5M pic.twitter.com/7aSGOfVytW

— WDW News Today (@WDWNT) September 21, 2018
Also on the chopping block at Animal Kingdom is Rafiki's Planet Watch. News first broke of its impending doom through an announcement to Cast Members and now Disney has publicly confirmed that the area will close permanently next month.
As of September 29, 2018, meet-and-greets with characters at Rafiki's have already ended, so alas, it's too late to shake the titular baboon's paw one last time. The rest of the facilities, including the Wildlife Express Train, Conservation Station, and petting zoo, will all close after October 20, while the animals remain under veterinary care behind the scenes.
4 bays x 7 pods per bay x 6 passengers per pod = 168 guests riding at one time max

Assuming ride time is approx. 3-1/2 mins and load/unload is *at least* another 2-1/2, totaling 6 minutes per cycle, or 10 cycles per hour, that's ~1,600 guests per hour.

— Matthew Gottula (@DLthings) September 26, 2018
Math can be mind-numbing but as you can see from the tweet above, theme park pundits have found a useful application for it: they're using it to calculate the hourly ride capacity for the upcoming Millennium Falcon attraction in Star Wars: Galaxy's Edge. That's right, kids. Math is important. You will need it. Stay in school or else you won't make it to Grad Nite at Disney.
The next Epcot Flower and Garden Festival will be held from March 6 to June 3, 2019. Good news for live music fans: the Garden Rocks Concert Series will be expanding to seven days a week during the festival.
Walt Disney World Resort Introduces New Online Destination For Vacation Planning, Date-Based Tickets: https://t.co/pMlIcSS8mp pic.twitter.com/kauQRFdVoj

— Disney Parks (@DisneyParks) September 24, 2018
How much you pay for a park ticket at Walt Disney World will soon depend on what day you decide to visit. The resort's new date-based model for ticket pricing is set to go into effect on October 16, 2018.
At Disneyland, mobile ordering is now available for Edelweiss Snacks, Refreshment Corner, Royal Street Veranda, and Stage Door Cafe.
Naples Ristorante e Pizzeria has opened a new upstairs dining room as part of the ongoing renovations of the Downtown Disney District.
Why settle for just visiting Fantasyland at Disneyland when you can build a faithful recreation of part of it in your basement? That's what one man, a railroad engineer named Travis, did, using "thousands of reference pictures collected from the internet." Let's get some more determined, Disney-obsessed engineers together and see what we can do about rebuilding the great attractions of yesteryear like the original Journey Into Imagination. Crowd-funding campaign, anyone?
If you need some fresh incentive to visit Universal's Islands of Adventure, there's always this: TripAdvisor has named it the number one theme park in the world for the fourth year in a row.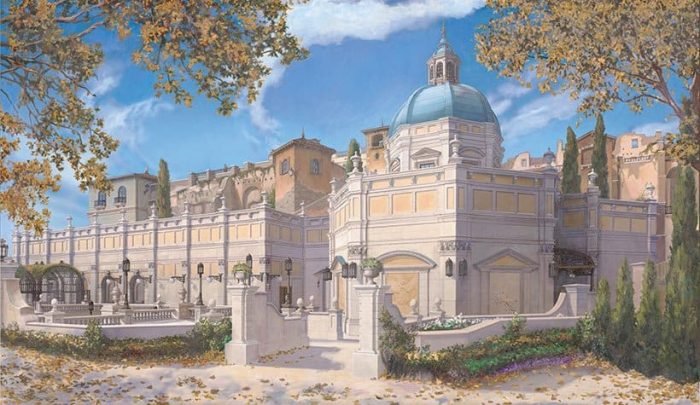 Moving abroad, Tokyo Disneyland has announced a new special event for next year, Donald's Hot Jungle Summer, which "will feature a stage show after dark in front of Cinderella Castle for the first time in six years." DisneySea's version of Soarin', dubbed Soaring: Fantastic Flight (see the concept art above), will also open next summer, along with a new show called "Song of Mirage" in the port of Lost River Delta.
Finally, at Walt Disney Studios Park in Paris, the CinéMagique theater show — a beloved opening-day attraction that closed last year after a decade and a half — is returning for a limited engagement from December 1, 2018, to February 3, 2019.