'Hellboy' Reboot Pushed Back To April 2019 Release Date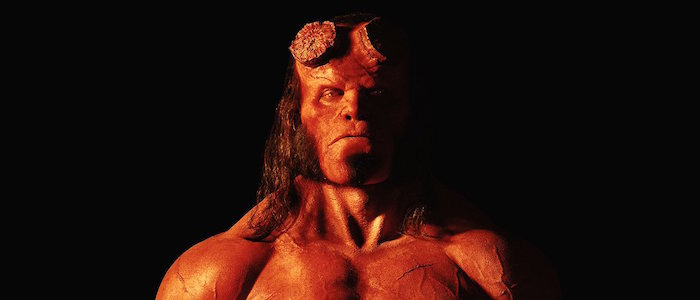 This is either good news or bad news for Hellboy fans.
Summit Entertainment has pushed back the release date for the anticipated Hellboy reboot starring Stranger Things actor David Harbour in the title role as the Dark Horse Comics characters. Originally slated to open in January 2019, the movie has now been pushed back four months to a date in mid-April 2019 instead.
The Hollywood Reporter has news of the Hellboy release date delayed all the way back to April 12, 2019. Though they don't cite any particular reason for the change in the release, this could either be good news or bad news for those excited to see the return of the character who was previously played by Ron Perlman in the franchised helmed by Guillermo del Toro.
The delay could be useful if Summit Entertainment is more confident in the movie performing well in April just before the summer season begins, especially when Shazam opens only one week before on April 5, 2019, and the reception to the first trailer was huge. After January is usually a dumping ground for garbage movies, so maybe Summit thinks they have something worthy of spring instead.
On the other hand, this could mean there are some troubles behind the scenes in post-production, and maybe some reshoots need to be done to fix it. We haven't heard anything on that front, but perhaps we'll get some details now that this delay has been announced. After all, the Hellboy team is supposed to be appearing at New York Comic-Con next week, so we might get a teaser trailer to quell any fears that might be out there.
With the new April 2019 release date, Hellboy is now up against Robert Downey Jr.'s The Voyage of Doctor Dolittle from Universal, as well as Fox's Breakthrough starring Chrissy Metz and Topher Grace and the young adult adaptation After from Aviron Pictures. It sounds like Hellboy probably has a good chance at winning that weekend unless Robert Downey Jr.'s movie has some tricks up its sleeve we don't know about.
Hellboy is directed by Neil Marshall (Game of Thrones) with a script from comic creator Mike Mignola and writers Andrew Cosby and Christopher Golden. The film also stars Milla Jovovich, Ian McShane, and Daniel Dae Kim. Hopefully, we get a first look at the new Hellboy soon.