Watch The 'Stranger Things' Kids Get Scared By Their Own Haunted House At Universal Studios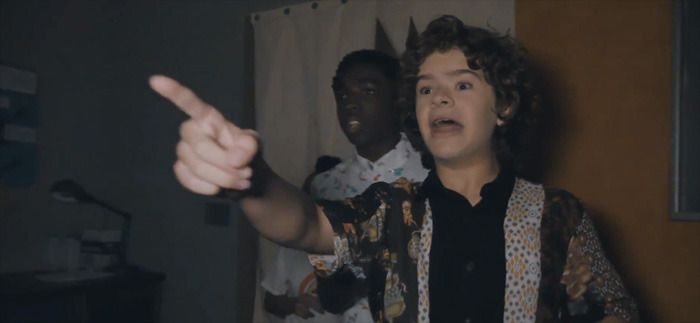 Halloween Horror Nights is in full swing at Universal Studios for all you jumpscare junkies who can't wait until October is here. This year, Stranger Things was added to the line-up of scary attractions with a haunted house featuring scenes and terrors inspired by the Netflix series, and not even the stars of the series are safe from the scares that lie within.
A new video from Universal Studios shows Gaten Matarazzo (Dustin), Caleb McLaughlin (Lucas), Sadie Sink (Max) and Priah Ferguson (Erica) from the Netflix series participated in a Stranger Things haunted house walkthrough of down in Orlando, Florida.
Stranger Things Haunted House Walkthrough
It's hilarious to see how scared the Stranger Things cast get. Right off the bat Caleb McLaughlin falls after jumping back in fright, and he swears he's not just putting on a show. Meanwhile, Gaten Matarazzo seems to be the least scared, though he does get caught off guard a few times. It's Sadie Sink and Priah Ferguson who get the most easily scared, screaming, jumping and hiding behind one another, making for great amusement.
The attention to detail for this Stranger Things haunted house is impressive. Our own Peter Sciretta checked out Halloween Horror Nights over at Universal Studios in Los Angeles, and he said:
"It might not have been the scariest maze at this year's event, but it was my favorite. It was just so much fun walking through the great recreations from the Netflix series' first season. This house has great production design and has been constructed on a soundstage instead of the usual makeshift tent, which allows them to make things bigger and more epic"
However, it sounds like the better option is Halloween Horror Nights over in Orlando, because Peter also noted:
"After watching videos of Universal Studios Florida's Stranger Things maze, I am disappointed that ours didn't feature as many character actors as theirs did, and their Upside Down had real ash falling from the sky where ours had merely projection mapping on the walls. In any case, this was a huge hit, and I'm sure they'll probably do a Stranger Things season 2 next year."
So if you're going to be near one of the Universal Studios locations and you're looking to get a little bit of a fright this season, it sounds like the Stranger Things maze and all the other Halloween Horror Nights attractions should do the trick. Find out more about the offerings this year in Peter Sciretta's full rundown of the event over here.