'The Raid 3' Probably Won't Happen, Director Gareth Evans Explains Why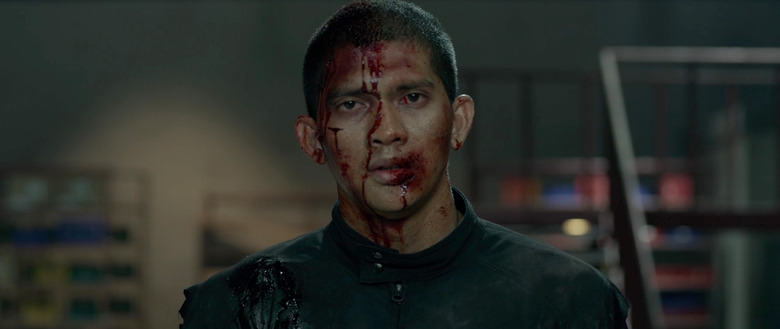 Director Gareth Evans quickly garnered acclaim and demand after delivering the intense, action-packed crime thriller The Raid. Then he upped the ante by coming back with an even more fierce sequel in The Raid 2: Berandal. Since then, fans have been wanting to see Gareth Evans get back behind the camera with The Raid 3 to continue the story of police officer Rama (Iko Uwais). But unfortunately, it's sounding less and less likely that the sequel will come together.
After getting a taste for horror while directing a segment for the horror anthology movie V/H/S 2, director Gareth Evans was drawn toward Apostle, his new film coming to Netflix in October (read our review from its recent premiere at Fantastic Fest). When asked why he decided to venture into this new territory instead of delivering The Raid 3, here's what he told us in a recent interview:
"The Raid 1 and 2 were incredible for me, but I just didn't want to be doing The Raids all the time. And the more time has gone on from that, the less interested I've been to go back there. What we did with The Raid 2, we kinda close that off nicely, so it didn't really appeal to me to jump back into that world again."
That might not sound like Gareth Evans is saying he won't direct The Raid 3 at some point, but speaking to CinemaBlend, he was a little more firm about abandoning the idea of returning to the franchise:
"The Raid 3 was... at one point it was on my radar. I had a full idea. I know what the storyline would have been. But I think enough time has passed now that I think I'm not likely to go back and revisit it. We had a lot of fun making those films, and I think we came to a nice, sort of natural conclusion with it. And I think sometimes you can have a little bit too much of a good thing."
That's such a bummer. Even though The Raid 2 does wrap up nicely, it still allows room for Rama to return in another installment. Having Gareth Evans craft one more chapter of bloody, martial arts mayhem would have made for an incredible trilogy, but it's understandable if he wants to create something different instead. Maybe he'll return to his idea some day and finally have the ambition to make it happen, but until then, at least we have the first two movies to keep us entertained. Now if we could just get Gareth Evans to bring some of that incredible action to American blockbuster movies, we'd be set.