It's All Happening: 'Almost Famous' Might Be Getting A Broadway Musical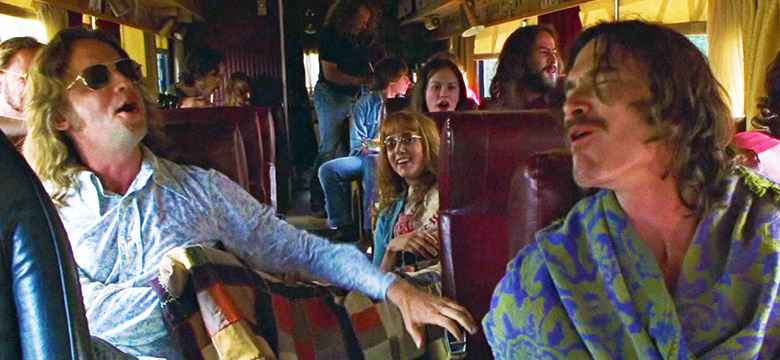 Almost Famous is a favorite among pretty much the entire /Film staff. Maybe it's because the story of a young journalist caught up in the hustle and bustle of rock and roll isn't too dissimilar from our own lives as we cover the daily beat of movie and television news, sometimes trekking across the world to visit film sets, attend movie premieres and interview Hollywood's biggest stars. Or maybe it's just because it's a damn good movie from director Cameron Crowe. Now we might be seeing the filmmaker's autobiographical story presented in a whole new way: a Broadway musical.
Before the weekend, Cameron Crowe posted this video on his website The Uncool:
The video starts with someone playing the piano (we'll get to that in a moment), and then the camera pans over to a wall of papers with various scribbles on them. The writing on the papers says things like "Four Sticks" and "The Wind," the former being a Led Zeppelin song and the latter being a Cat Stevens song. It just so happens that "The Wind" is the exact same song that Kate Hudson dances to in an empty concert venue as Penny Lane in Almost Famous. But in case that doesn't give the game away, there's more.
Those pieces of paper also have references to Almost Famous scenes such as "poker game" and "Dennis Hope speech," the latter being a reference to the road manager character played by Jimmy Fallon in the movie. But the icing on the cake is the piece of paper that says "Stillwater sound check" before panning up to a paper that says "Almost Famous."
So what makes us think this is planning for an Almost Famous musical? Well, those papers all make reference to scenes and songs. Plus, eagle-eyed musical fans believe that the man playing the piano is none other than Tom Kitt, who wrote the music for the musical adaptation of High Fidelity and was the music supervisor and orchestrator for the Broadway musical American Idiot, inspired by Green Day's hit album of the same name.
The prospect of an Almost Famous musical sounds amazing. Obviously the movie is already set in the world of rock and roll, making it easy to craft a musical around. And it seems like this might be a jukebox musical along the lines of Rock of Ages since it references two real rock and roll songs. But surely there will be original songs as well. It seems like it's early days since Cameron Crowe still appears to be in the planning stages, but this is thoroughly exciting.