'Ralph Breaks The Internet' Tweaks The Disney Princess Scene After Whitewashing Criticisms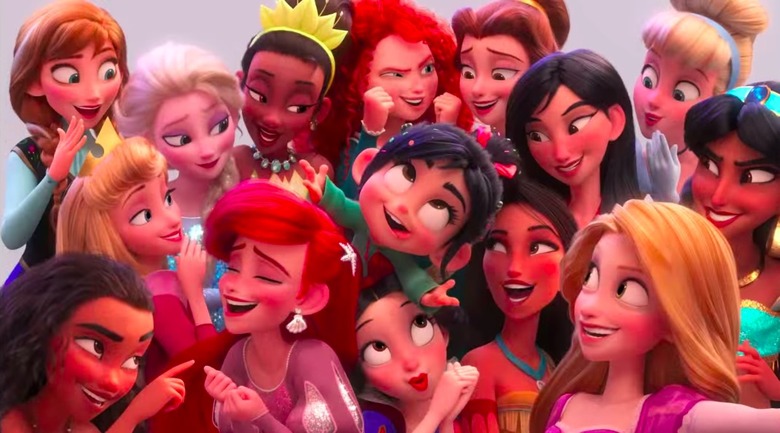 At least this one time, criticisms of whitewashing in a major Hollywood movie will have a happy ending.
When Ralph Breaks the Internet debuted its first footage to eager fans at last year's D23 Expo, all the buzz surrounding the Wreck-It Ralph sequel was about the scene in which Vanellope (Sarah Silverman) stumbles upon the room housing all of the Disney princesses, voiced by most of the original voice actors. The rest of us finally got a peek at this scene in this year's Wreck-It Ralph 2 trailers, but excitement over the cameos soon turned to anger when fans noticed that Disney's only black princess, Tiana (Anika Noni Rose), was considerably lighter than when she had appeared in 2009's The Princess and the Frog. But before that controversy could break the internet, Disney moved quickly to change the Ralph Breaks the Internet princess scene.
According to a report from The Wall Street Journal, Disney heard your criticisms of whitewashing in Ralph Breaks the Internet and are hard at work to fix that. Disney Animation began reanimating scenes with Princess Tiana immediately after the controversy broke this May, following the release of images of the Disney princesses in a casual-wear slumber party with Vanellope.
The image in question showed the princesses after Vanellope had stumbled into their "room" and was met with initial hostility (including Cinderella's jagged glass slipper) only for them to welcome the arcade game character with open arms after learning that she was basically a princess too. Inspired by Vanellope's clothes, they slip on some casual-wear and lounge about, in an image that is absolutely delightful except for one thing: Princess Tiana's appearance. The Tiana in Ralph Breaks the Internet has lighter skin and a narrower nose than she had in her 2009 film, which ignited a firestorm of controversy online over the racist implications of "whitewashing" Disney's only black princess.
Now, merely two months before the movie's release, Disney is working hard to revise Tiana's appearance — which you can already see the results of in the latest Ralph Breaks the Internet trailer. "The revisions—an unusual move given the years-long process of making an animated film—come in the final months before the movie's release," WSJ writes.
Disney animators are also seeking feedback from Tiana's voice actress Anika Noni Rose on the depiction of the princess, according to WSJ. They've also met with "representatives from Color of Change, an advocacy organization that focuses on issues of racial representation and political inequality, including portrayals of black characters in Hollywood."
Color of Change president Rashad Robinson celebrated this win for representation with a tweet capturing Tiana's appearance in the latest trailer.
Big news. Because of COC members and convos with @DisneyAnimation, Princess Tiana has been restored to her original depiction. Now when Black girls watch #WreckItRalph2, they'll see Tiana and other princess of color that actually looks like them on screen #BlackGirlMagic pic.twitter.com/4ZPJm4aZyz

— Rashad Robinson (@rashadrobinson) September 20, 2018


Ralph Breaks the Internet opens in theaters on November 21, 2018.
In "Ralph Breaks the Internet," video-game bad guy Ralph (voice of John C. Reilly) and best friend Vanellope von Schweetz (voice of Sarah Silverman) leave the comforts of Litwak's arcade in an attempt to save her game, Sugar Rush. Their quest takes them to the vast, uncharted world of the internet where they rely on the citizens of the internet—the Netizens—to help navigate their way. Lending a virtual hand are Yesss (voice of Taraji P. Henson), the head algorithm and the heart and soul of the trend-making site "BuzzzTube," and Shank (voice of Gal Gadot), a tough-as-nails driver from a gritty online auto-racing game called Slaughter Race, a placeV anellope wholeheartedly embraces—so much so that Ralph worries he may lose the only friend he's ever had.