That Surprise 'Solo: A Star Wars Story' Cameo Almost Featured A Drastically Different Design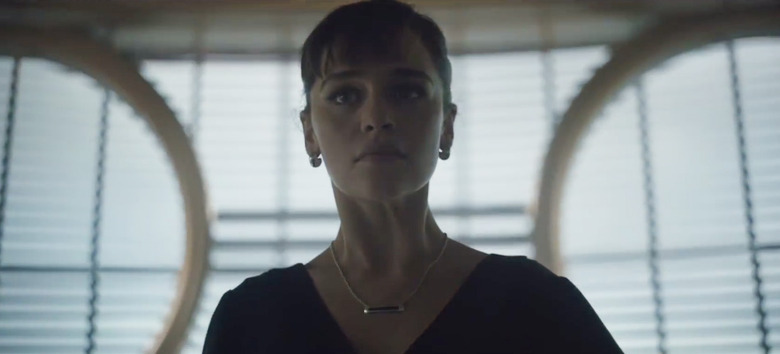 Now that Solo: A Star Wars Story is out on home video (on digital download, with a Blu-ray and DVD release this week), the folks over at Lucasfilm are diving into the making of the film. That includes revealing several pieces of concept art with drastically different designs for a certain surprise cameo in the movie that completely caught fans off guard. Find out more about the thought process and alternate designs for that Solo A Star Wars Story cameo below.
Keeping the Secret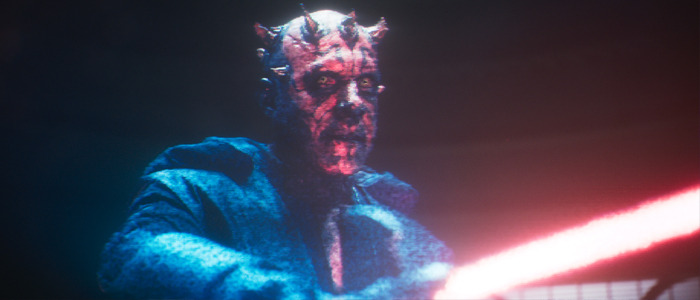 Concept artist Jake Lunt Davies spoke to StarWars.com about working on Darth Maul, which was kept a secret from a lot of people, even those working on the movie. He explains:
"A handful of us were let in on Maul being in the film so we could start development on it. We all had to be extremely hush hush on it, as they really wanted it to be as much of a surprise as possible. It made it tricky to actually work on because we didn't even want people to know there WAS as a secret. Anytime anyone came into our room, we were on guard, basically, and would quickly put another safe picture up to hide what we were working on."
That's a big secret to keep, but it paid off, because fans were absolutely shocked to see Darth Maul show up, even those who weren't necessarily keen on the rest of the movie as a whole.
Darth Maul's Lower Half
As any Star Wars fan will tell you, Darth Maul was severed in half in Star Wars: The Phantom Menace when Obi-Wan Kenobi's lightsaber sliced his body across the waist. However, the more dedicated Star Wars fans will know that Darth Maul didn't die that day. Instead, he survived and was able to give himself robotic legs and went on to appear in The Clone Wars and Star Wars Rebels.
Even though fans who kept up with those shows know what Darth Maul looks like with robotic legs, there were several different versions of robotic legs over the years. That gave the Darth Maul design team carte blanche to redesign Maul's legs, especially since this is the first time fans were going to see a live-action version of the character. Davies says:
"With the legs, through the research we did, he'd had been through two or three different pairs since losing his lower half. When he showed up in Clone Wars, he gets fixed up with a big pair of spider legs first, then after that he gets these sort of backwards-facing chicken legs, then normal straight legs. So we thought, 'We've got the liberty to design his legs, because they're not canon and set in stone at this time.'"
As you can see, the designs got pretty crazy. There were plenty of changes they could make with regards to the legs, all of which would have an impact on how the rest of his body and wardrobe looked. Davis adds, "Again, we did a lot of different leg designs, and maybe made him a bit taller or tried to bring character to his leg designs, I suppose. And then it was, how much of his leg design do you get to see in conjunction with his costume? Where does his costume end — at the waist or lower down? You don't want to hide his legs too much, so costume had to get that right. It was an interesting process to find all these little things to get that right, really."
Make-Up, Horns and Hair
Since it's been a long time since Darth Maul has been seen in the live-action Star Wars universe, even his make-up was looked in a different way. Even though the team had the ability to change Maul's design somewhat, the character (played again by Ray Park) still had to look a lot like himself in order for fans to realize that this was the same character from The Phantom Menace and not another Dathomirian Zabrak character, like his brother Savage Oppress. Davies says:
"It was a really cool thing to work on. The time difference between when you'd last seen him and now...and obviously we're bringing back Ray Park! It gave us the opportunity to look at what we could do with the makeup and the styling of him, to see if we could add a little bit of an edge to him because he's become who he is, because he's older, and also because the techniques of makeup application have developed since they did it the first time around. So we did a lot of exploration of how far we could push it. Have his horns grown, have his horns been chopped off? Have his tattoos changed? Has he added tattoos, have they faded like old sailors' tattoos have faded? There were all these different things we were playing with. Has he got more scars? Does he look really craggy or does he look full and fat and successful?"
A fat and successful Darth Maul? Now that's something I'd pay to see. One of the other drastically different designs actually took inspiration from one of the unused designs done by Ian McCaig for The Phantom Menace. Davies elaborates:
"I did a drawing which was based on one of Ian McCaig's really amazing early concepts [for The Phantom Menace] of Darth Maul with hair, sort of lank and wet. His image didn't have the horns — it looked like it was out of The Ring, or something like that. So I did a version based on that where his hair had grown [Laughs], he had all this long hair and all his horns had grown long like antlers, sort of spiky; he hadn't cut them back and they're just overgrown, so he has this huge crown of horns poking out of his hair and this glowering look."
We're glad that they didn't overdo it with rethinking Darth Maul's design, but the way they aged him, added some scars, and made it look like he'd been through some hard times was a nice touch. Plus, there's that new lightsaber that he ignited for no good reason while speaking through the hologram. Hopefully we get a chance to see him use it on the big screen again sometime down the road. But since Solo: A Star Wars Story was a disappointment at the box office, the return of Darth Maul might not play out as it was originally conceived. But we'll have to wait and see how it all pans out.
You can read more about the concept art designs for Darth Maul and assorted other characters from Solo: A Star Wars Story over at StarWars.com. Otherwise, the movie is now available on digital download and hits Blu-ray and DVD on September 25, 2018.