'Bumblebee' Trailer: Get A Load Of Cybertron, Classic Transformers Designs & More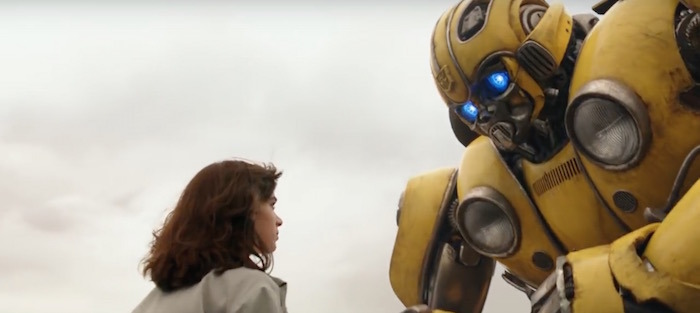 After showing off a slew of
new footage at San Diego Comic-Con
this past summer, a new Bumblebee trailer has arrived that showcases a lot of things that Transformers fans have been wanting to see on the big screen for years. Sure, there's the standard explosive action and some of your favorite Autobots and Decepticons, but we're seeing them with a whole new classic aesthetic, and there are even glimpses of their homeworld of Cybertron as we've never seen it before.
Watch the Bumblebee Trailer
As you can see Cyberton is at war, prompting Optimus Prime to send some kind of message updating him about what's happening back on his home planet. Part of that war is Soundwave, opening his chest to let a wolf Transformer of some kind lunge out. And as you can see, both the hologram of Optimus Prime and the battling Soundwave are modeled after the first generation designs of the Transformers.
They aren't the only Transformers on the scene though. We get to see more of several new Decepticons who are after Bumblebee. First, there'a the team of Shatter (voiced by Angela Bassett) and Dropkick (voiced by Justin Theroux). They take the form of muscle cars, but they are also Triple Changers that are able to transform into aerial vehicles as well. Shatter transforms into a Harrier jet while Dropkick turns into a helicopter. Plus, there's another flying Decepticon called Blitzwing (voiced by David Sobolov).
Of course, there are humans on the scene too. Hailee Steinfeld plays Charlie, the teenage girl still finding her way in the world. She strikes a bond with Bumblebee as he's in hiding on a strange planet. But then John Cena's character Agent Burns is in pursuit of Bumblebee. His pursuit comes with false assumptions though, and I'd be willing to bet he's not a villain the whole way through.
Travis Knight (Kubo and the Two Strings) is directing Bumblebee from a script by Christina Hodson (Unforgettable). Here's the official synopsis:
On the run in the year 1987, Bumblebee finds refuge in a junkyard in a small Californian beach town. Charlie (Hailee Steinfeld), on the cusp of turning 18 and trying to find her place in the world, discovers Bumblebee, battle-scarred and broken. When Charlie revives him, she quickly learns this is no ordinary, yellow VW bug.
Bumblebee arrives in theaters on December 21, 2018.