Cool Stuff: 'Jurassic Park' Funko POP Jeep Must Go Faster, Must Go Faster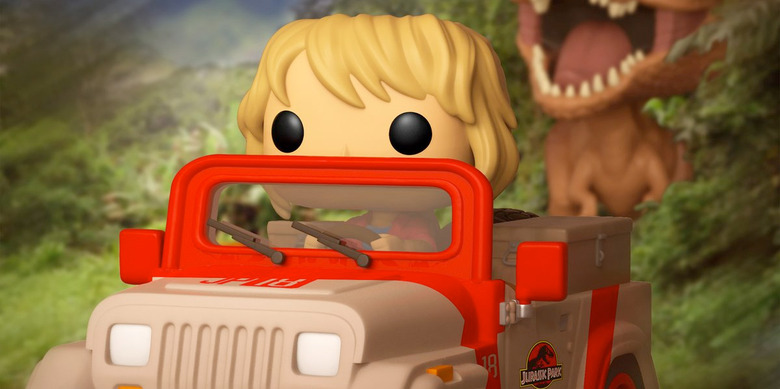 The Jurassic Park line of Funko POP figures hit shelves earlier this year, including an extremely popular and hard to find sexy version of Jeff Goldblum as an injured Ian Malcolm. But one of the characters missing from the line-up, much to the chagrin of Laura Dern fans, was paleobotanist Dr. Ellie Sattler. Thankfully, she has joined the rest of the big-headed Jurassic Park collectible figures, and she comes with the best accessory of them all: a Jurassic Park Funko POP Jeep
Jurassic Park Funko POP Jeep
The Jurassic Park Funko POP Jeep is a new addition to the POP Rides line of collectibles from Funko, and right now it's the only way to get your hands on an Ellie Sattler Funko POP figure.
Of course, one can't help but point out that Dr. Ellie Sattler is wearing a yellow raincoat when she's in the Jeep in Jurassic Park when the tyrannosaurus rex decides to pursue the park vehicle. But if they're not giving Ellie Sattler a different, individual Funko POP sometime down the line (preferably one with Mr. Arnold's bloody arm), it's probably better that they left that detail out.
The good news is that it looks like there's enough space in the back of the Jeep to put that sexy, injured Ian Malcolm figure. It's just a shame there's no room for Robert Muldoon to be in the Jeep as well. Now if we could just get a Funko POP Ride of the Ford Explorer with Lex and Tim, then Jurassic Park fans would be very happy.
You can get the Jurassic Park Funko POP Jeep sometime in November.