First Look At 'Men In Black' Reboot, Ryan Reynolds Posts Amusing '6 Underground' Set Video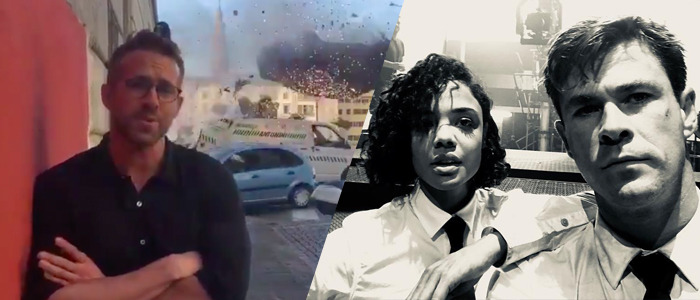 Chris Hemsworth has taken to Twitter to reveal the first behind-the-scenes photo from the newest Men in Black movie, which reunites the Thor actor with his Ragnarok co-star Tessa Thompson.
Meanwhile, Ryan Reynolds' Twitter account is a treasure trove of jokes, sarcasm, and sexual innuendo. (He truly was the perfect choice to play Deadpool.) But yesterday, Reynolds, who's currently starring in a new Netflix movie called 6 Underground, swapped the innuendo for action when he tweeted a set video in which he jokes around while a Michael Bay-directed car crash unfolds just a few feet behind him. Check out the video below.
6 Underground Set Video
.#6Underground @netflix pic.twitter.com/jPvk3PhQpf

— Ryan Reynolds (@VancityReynolds) September 19, 2018


6 Underground is Netflix's most expensive original movie so far, with its $150 million budget easily topping the $90 million spent on last year's fantasy cop movie Bright and even edging out the reported $140 million budget for Martin Scorsese's visual effects-heavy gangster movie The Irishman. This marks the first time that action veterans like Bay and Reynolds have ever teamed up, but it's a reunion between Reynolds and the writers: Rhett Reese and Paul Wernick also wrote Deadpool and Deadpool 2.
The plot follows "six billionaires who fake their own deaths and form an elite team to take down bad guys," and unsurprisingly, it's being envisioned as the start of a franchise. Hilariously, this film was the subject of a wild rumor that pegged it as a secret Thundercats movie –  yes, the brightly-colored sci-fi cartoon from the 1980s. We wrote about how that rumor made very little sense, and soon after we published our piece, we heard from a source close to the production that the rumor was not accurate. Separately, writer Rhett Reese contacted us to tell us it wasn't true, so settle down, Thundercats fans – you'll just have to wait your turn.
6 Underground, which has been described as "The Rock meets Suicide Squad," is still filming, and it's set to be released on Netflix sometime in summer 2019.